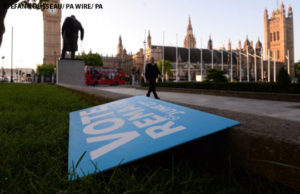 On 23 June 2016 the UK went to the polls to decide whether to remain a member of the European Union. We look at the immediate reaction to the victory of the Leave vote:
In her latest BMJ column, Margaret McCartney asks, what does leaving the EU mean for our NHS, research community, and our spirit of collectivism? Now we've voted to leave, it's time for a messy divorce.
—
Among all the negative coverage, it's refreshing to see a more positive message:
A message to ALL our staff who have joined us from overseas – we value you and the contribution you make to @HCTNHS. Thank you

— David Law (@DavidLawNHS) June 24, 2016
—
Professor Simon Wessely, FMedSci, President of the Royal College of Psychiatrists & Chair of Psychological Medicine and Vice Dean, Institute of Psychiatry Psychology & Neuroscience, King's College London, said:
"There is no way I can pretend to be anything other than dispirited and disappointed. Whilst I don't believe that people voted to leave the EU with science and health foremost in their minds, I fear that the consequences for both will be serious over the coming year unless we take firm and decisive action now. I hope that ways will be found to reassure all those non UK EU citizens who work in science or the NHS that their futures are secure here, and that we will make sure that whatever happens the UK remains an attractive place for others to come and help take medical science and the NHS forward"
—
Professor Sir Paul Nurse, Director of The Francis Crick Institute, and former President of the Royal Society, said:
"This is a poor outcome for British science and so is bad for Britain. Science thrives on the permeability of ideas and people, and flourishes in environments that pool intelligence, minimise barriers and are open to free exchange and collaboration. British scientists will have to work hard in the future to counter the isolationism of BREXIT if our science is to continue to thrive."
—
Lord Sharkey, Chair of the Association of Medical Research Charities, said:
"The UK health and medical research community partners and collaborates with the European Union and its Member States to advance our knowledge and understanding of health. As the implications of the UK's vote to leave the EU unfold, we urge Government to engage in a constructive dialogue with the medical research charities sector on the future of EU funding for research in the UK, and the regulations and policies that affect the medical research environment.
Moving forward, we will want Government to ensure an efficient and smooth transition of EU funding and regulations for medical research in the UK to enable it to continue to flourish."
—
The British Medical Association have issued a statement. Dr Mark Porter, BMA council chair, says:
"In the aftermath of the UK's vote to leave the EU, the BMA reaffirms its commitment to working with our European partners and the European Union to safeguard the future of our profession and the patients we serve.
We urge politicians not to play games with the UK's health services as the country faces a new future.
We stand together as one profession with our colleagues from Europe and across the world, with whom we live, work and study and on whom the NHS depends."
—
Niall Dickson, Chief Executive of the General Medical Council, has said:
'Withdrawing from Europe will have implications for the way that we regulate doctors but we understand that the vote to leave the EU will have no impact on the registration status of any doctor already on the register.
'We will now explore how doctors from the EU will be granted access to the UK medical register and how any concerns about those doctors will be shared between us and other countries. We will also seek to understand the implications for UK doctors wishing to work in the EU once the UK is no longer a member state.
'Much will depend on whether the principle of free movement is maintained within the treaty of withdrawal.
'We will now begin to discuss these issues with the four UK Governments. Our chief priority in these conversations will be to make sure we can provide robust protection to UK patients.'
—
As remainer am in agreement with Dan Hannan just now: we voted to leave, now need calm, thoughtful leadership 2 bring &keep country together

— Jeremy Hunt (@Jeremy_Hunt) June 24, 2016
—
Michelle Drage, chief executive of Londonwide LMCs has issued this statement:
"From London's viewpoint the decision of voters outside our city is going to compound all the challenges we have been faced with and continue to try to manage across the Capital.
"Now, more than ever, we need to ensure we have the strongest general practice service targeted to help those in most need.
"At a time when the financial stability and sustainability of general practice is under immense pressure, the campaign pledge of an extra £350m per year invested into the NHS would make a huge difference. And we will take a close interest in how that is delivered."
—
Sarah Wollaston MP has tweeted that as Chair of the Health Committee she will be asking when and how the pledge to put £350 million a week that we send to the EU into the NHS instead will be honoured:
Note to 'leavers' who take over in Govt, as @CommonsHealth chair I will be asking when & how this pledge is honoured pic.twitter.com/vLLgQB39r0

— Sarah Wollaston MP (@sarahwollaston) June 24, 2016
However, Nigel Farage has already admitted that the promise that £350 million a week will be put into the NHS was "a mistake."
—
UK #pharma view on #EUref #Brexit vote > "UK must send strong signal it's open for business" https://t.co/uOQTqae148 pic.twitter.com/KCv3njw0Ew

— ABPI (@ABPI_UK) June 24, 2016
—
There's warning from generics manufacturers that withdrawing from single European marketing authorisation could drive up drug prices.
Warwick Smith, Director General of the British Generic Manufacturers Association and the British Biosimilars Association, said:
"The existence of a single European marketing authorisation for medicines has generated considerable benefits for patients, the NHS and the industry. The single European marketing authorisation reduces cost and complexity for manufacturers, facilitating the production and regulation of high quality medicines and their availability to patients.
"The UK generic and biosimilar medicines industry therefore urges the Government to do everything possible to maintain this European marketing authorisation system in the forthcoming negotiations with the European Union."
—
KPMG's Head of Healthcare comments on the Brexit result:
Jason Parker says: "Today's economic uncertainty as a result of Brexit has a potentially huge impact on the NHS's workforce. The health sector is enormously reliant on workers from the European Economic Area. We will be advising our clients to look after and reassure these highly skilled and valued workers.
"We expect there to be further implications for research and innovation in the NHS, as many collaborations and employees in this domain rely on existing links with the European Union.
"NHS leaders will be hoping that the Brexit camp stay true to their word to redirect some of the capital linked to the European Union back into the NHS, however whether that is financially practical remains to be seen."
—
Professor Sir Robert Lechler, President of the Academy of Medical Sciences said:
"This is a very disappointing outcome for medical science. Now that the direction has been set to leave the EU, it is crucial that the government develops clear plans to safeguard the future of science and research in the UK.
"We must ensure the UK retains its globally competitive edge in a post-Brexit world by finding ways to sustain the strong research collaborations we have built with our European partners.  The scientific community needs to send a strong message that we are still open for business.
"As part of this, research will need access to funding sources to replace those put at risk by exiting the EU, as well as clear plans to maintain access to European research talent and mechanisms for scientific collaboration.
"The Academy of Medical Sciences is ready to work with Ministers and officials to shape suitable and sustainable plans for the future of UK medical science."
—
The Local Government Association have said:
"Local government is going to be central in bringing communities together following this vote.
"Councils in England need a seat around the table when decisions are taken over how to replace EU laws as part of the UK's exit negotiations. It is vital that local government is part of the team.
"EU laws and regulations impact on many council services, such as waste, employment, health and safety, consumer protection and trading and environmental standards.
"There cannot be an assumption that power over these services is simply transferred from Brussels to Westminster. If services are delivered locally, then the power over how to run them should rest locally too. Decades of centralised control over funding and services has distanced our residents from the decisions that affect their everyday lives. With greater control in our areas we can improve services and save money.
"Communities in England have been allocated £5.3 billion of EU regeneration funding up to 2020. It is important for the Government to guarantee it will protect this vital funding to avoid essential growth-boosting projects stalling and local economies across England being stifled.
"The LGA will continue to represent the interests of English councils in Brussels as the UK's exit from the EU is negotiated."
—
Commenting on the public's vote to leave the European Union, Stephen Dalton, Chief Executive, NHS Confederation, said:
"The NHS has broadly benefitted from being in the EU and leaving it will undoubtedly have implications which are yet to be clearly understood. The priorities for those who lead and are on the frontline of delivering NHS funded services are the sustainability and quality of patient care.
"It is impossible to predict the full impact at this stage, but clearly it is vital that our government seeks a strong, nuanced agreement with the European Union that recognises how interwoven NHS and EU policies have become.
"NHS organisations and our partners in social and community care will be anxious to see how this decision affects recruitment, economic stability, legislation and their local efforts to transform care.
"The NHS's top priority will be to adapt to the new circumstances and continue its high quality services for patients. The NHS Confederation, through our European Office will be working in Brussels and the UK to ensure the needs of the NHS and its patients are understood throughout this process."
—
We need reassurance for our friends & neighbours currently working in UK from EU, incl 130,000 in NHS & socialcare, that they are valued

— Sarah Wollaston MP (@sarahwollaston) June 24, 2016
Humpty Dumpty nation

— Chris Ham (@profchrisham) June 24, 2016
I went to be a European and woke up a Little Englander. Trying, and failing, to make sense of Brexit. https://t.co/lvFRfVhV71

— Richard Smith (@Richard56) June 24, 2016
Manifesto commitments:
– austerity
– 7 day nhs
– EU referendum

What a mess. I hope it was worth it for Cam and Osborne

— Dagan Lonsdale (@DaganLonsdale) June 24, 2016
Ouch. Brexiting Britian needs its universities & academics more than ever. But has just dismissed entire concept of expertise. Big challenge

— John Gill (@JG_THE) June 24, 2016
The UK decision on the EU means we need to use global mechanisms on fairness and development (such as SDGs) even more effectively.

— David Pencheon (@pencheon1) June 24, 2016
Professor Paul Boyle, President and Vice-Chancellor of the University of Leicester, and former President of Science Europe said:
"This is a shocking result for the nation and its universities and a dark day for UK science. Universities were aligned in their view that remaining in the European Union would be to the benefit of their students and staff. Now that the electorate has decided that we should leave, there needs to be some very careful negotiation about how we continue to collaborate freely with our European partners for the benefit of science, society and our economy. We need to offer support to our European colleagues and students who are working and studying in the UK, and we need to begin campaigning immediately to protect the science budget.
"One of the priorities for higher education as well as the country in the short term will be to seek stability and reassurance. There will be questions that must be addressed over our ability to continue to access the very significant levels of European funding for research and how the government will make up for any losses, and what impact Brexit is likely to have on the mobility of students and staff between Britain and EU countries. Every effort must be made both by the government and our universities to counter any impression that this result means that the UK has become less welcoming as a study or work destination for international students and staff.
"Given the political uncertainties arising from the vote, another question will be how it will affect the passage through parliament of the Higher Education and Research Bill. Since provisions in the Bill represent a fundamental shift in the HE and research landscape, the sector will need to know as soon as possible the implications for this legislation."
—
Professor Neil Hall, Director of The Genome Analysis Centre (TGAC), said:
"The Genome Analysis Centre (TGAC) like all research institutes in the UK benefits from EU funding but also many of our research staff are non-British EU nationals. Therefore, we currently depend on free-movement to maintain our scientific excellence and competitive edge. The ramifications of this decision will depend very much on what will replace what we have now, and I sincerely hope that the government value the UK's leading position in research and do not hamstring us by restricting collaboration and cooperation across borders."