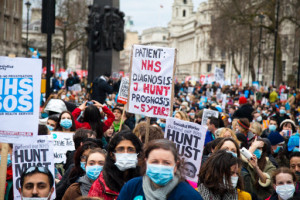 The latest round of strike action from junior doctors in England is taking place this week. In a similar vein to the action taken last month, junior doctors will be offering emergency care only for 48 hours between 8am on Wednesday 6 April and 8am on Friday 8 April. The BMJ will once again be charting events as they unfold this week. If you have any news, pictures, thoughts, or tweets to offer us on the industrial action, please send them to Gareth Iacobucci at giacobucci@bmj.com.
Friday 8th April
11.12 – Earlier this morning, The BMA's junior doctors committee chair Johann Malawana – who has become accustomed to dealing with the media during recent strike days – faced what he described as his toughest interview yet on BBC Radio 4's Today programme.
Hear how he handled the questions from John Humphrys by listening to the full interview here.
—
10:50 – After the action drew to a close at 8am this morning, the BBC is reporting that fresh talks have been ruled out but the government.
"Sources told the BBC that the British Medical Association had blown its chance to negotiate and said there would be no deviation from imposition.
It means the first-ever all-out strike by junior doctors looks likely to go ahead in three weeks, with the BMA also maintaining it will not climb down," the BBC reports.
Thursday 7th April
15.51 – A nice selection of picket line pictures here compiled by The BMA.
—
13.53 – The BMA's junior doctor committee chair Johann Malawana has written a blog for The Huffington Post about the strike.
In it, he urges the government to "….listen to the medical colleges, health charities and now some of their own back benchers when they say imposition of a contract is simply the wrong thing to do."
—
12:35 – Abi Rimmer has reported on the views of junior doctors at the Northwick Park Hospital picket line yesterday;
Junior doctors taking part in industrial action have expressed concerns over the effect that their new contract could have on the NHS in the future, BMJ Careers reports.
—
11.13 – Impromptu CPR training for the public has become a regular feature of junior doctors' strike days…
As always, it seems, it's cold&raining, but the CPR teaching continues! #JuniorDoctorsStrike pic.twitter.com/gwVSEt25Vk

— Barts Junior Doctors (@BartsDrs) April 7, 2016
Free CPR training @BartsDrs #juniordoctors #stratford pic.twitter.com/ivVy3JYLRL

— Dhanuka (@DhanukaP) April 7, 2016
—
10.25 – These images below are from picket lines at Huddersfield Royal Infirmary in west Yorkshire, Hammersmith hospital in west London and the Royal Hampshire County Hospital in Winchester.
Standing firm in #Huddersfield #JuniorDoctorsStrike pic.twitter.com/FhCsuiV498

— Yorkshire Jnr Docs (@yhdoctors) April 7, 2016
Hammersmith hospital #JuniorDoctorsStrike pic.twitter.com/Jpz6BIAhNp

— Lina Nikolopoulou (@LinaNikolop) April 7, 2016
Protecting patients from #notsafenotfair #juniorcontract at RHCH picket line #JuniorDoctorsStrike @gatelab pic.twitter.com/q6xb7EZHB0

— Dr. Daniel Growcott (@dr_growcott) April 7, 2016
—
09.21 – The second day of the latest 48 hour strike from junior doctors is under way.
As Abi Rimmer reports here, concerns have been raised by medical royal colleges that the government's proposed new contract for junior doctors in England could unfairly disadvantage women, following the publication of this controversial equality analysis last week.
One Twitter respondent suggests this might be having an impact on picket line attendances…
Our picket is over 90% female, indicative of how they feel about the #juniorcontract @BMAYorkshireJDC @TheBMA pic.twitter.com/z5Rxd5vjsw

— Will Harvey Sapwell (@WillSapwell) April 7, 2016
Wednesday 6th April
16.07 – A respondent on Twitter has heard that some NHS trusts are making it difficult for junior doctors to picket by preventing them from using the toilet or from parking their vehicles (see tweet below).
If anyone has experienced such behaviour, please get in touch with us.
Is it symptomatic of relations that I hear some trusts have made it impossible for juniors to picket: can't use toilets or park! Bullying?

— Dermot O'Riordan (@dermotor) April 6, 2016
—
15.38 – Should junior doctors expect a drop in public support as strike action escalates? That's the question The BMJ is asking in this week's online poll. You can have your say via this link.
Ben Page from the polling company Ipsos MORI gives his thoughts on the question in an article for The BMJ.
His view is, "With doctors' support so embedded, public opinion is not likely to really swing against doctors unless there are some well publicised deaths that can be easily and directly attributed to strike action, however long this dispute drags on. The current threat of escalating action risks alienating some of the public, but junior doctors' support runs deep."
—
14.00 – The Department of Health has commented on junior doctors' industrial action. A spokesperson said,
"This strike is irresponsible and disproportionate, and with almost 25,000 operations cancelled so far, it is patients who are suffering. If the BMA had agreed to negotiate on Saturday pay, as they promised to do through ACAS in November, we'd have a negotiated agreement by now. We ask doctors to look at the detail of the contract and call on the BMA to cancel their plans to escalate strike action even further."
—
13.48 – Junior doctors have also been protesting outside the Department of Health's Whitehall headquarters today, as documented in these pictures below…
Junior doctors outside Department of Health. #JuniorDoctorsStrike pic.twitter.com/fxTAfwXaKG

— Orlando Hill (@Orlando_Hill) April 6, 2016
Junior doctors demonstrate outside the department of Health as the 48 hour strike gets under way pic.twitter.com/76G6ZV7RE2

— Jemma Crew (@jemmacrew) April 6, 2016
Die in currently underway outside Department of Health, Whitehall #HuntMustGo #BursaryOrBust #JuniorDoctorsStrike pic.twitter.com/PW6FSRmr1b

— Unite the Resistance (@resistunite) April 6, 2016
—
13.02 – Meanwhile, The BMJ's roving reporter Abi Rimmer has been out on the frontline with some special guests at Northwick Park hospital in north west London…
#GreenWing cast showing support for #JuniorDoctorsStrike at Northwick Park pic.twitter.com/fSPIKBv1Wg

— Abi Rimmer (@Abi_Rimmer) April 6, 2016
#GreenWing cast at Northwick Park #JuniorDoctorsStrike pic.twitter.com/zISIUCIBXG

— Abi Rimmer (@Abi_Rimmer) April 6, 2016
I've made it to Northwick Park #JuniorDoctorsStrike pic.twitter.com/IZyyacjBnF

— Abi Rimmer (@Abi_Rimmer) April 6, 2016
—
12.55 – The BBC has published an article on junior doctor Jason Seebaluk, who says the government's contract imposition will drive him out of the UK.
'I am moving to Australia permanently,' he says. 
—
10.15 – Unions showing their support for junior doctors in Brighton
Marching in solidarity in front of #brighton pavillion #JuniorDoctorsStrike pic.twitter.com/t9ccJgV3QN

— Ginny Sanderson (@GinnySanderson) April 6, 2016
—
10.10 – Braving the rain at Frimley Park Hospital
Frimley Park Hospital #juniordoctors #juniorcontract #JuniorDoctorsStrike pic.twitter.com/6pkyD43Swn

— Dr Sammy (@sbattrawden) April 6, 2016
—
10.05 – The sun is shining on junior doctors taking action at Doncaster Royal Infirmary
Doncaster Royal Infirmary @TheBMA @yhdoctors #JuniorDoctorsStrike #juniordoctors #juniorcontract pic.twitter.com/Cf8BvzjMee

— BMA Yorkshire JDC (@BMAYorkshireJDC) April 6, 2016
—
10.00 – The Independent is reporting that nearly half of the British public supports the planned all-out strike by junior doctors, according to a new YouGov survey.
The survey found 45 per cent backed a full strike, with 38 per cent opposing it. A further 15 per cent of people surveyed were either neutral or unable to answer, the Independent reports.
—
9.50 – York junior doctors are standing together
York picket #JuniorDoctorsStrike #WeStandTogether @yorkpress @BBCYork @yhdoctors @minsterfm @yorkshirepost pic.twitter.com/38k9g35VYL

— Melody Redman (@MelodyRedman) April 6, 2016
—
9.45 – Junior doctors on the picket line at Bristol Royal Infirmary
I'm at @TheBMA picket line at #Bristol Royal Infirmary – lots of signing and beeping #JuniorDoctorsStrike pic.twitter.com/O9aId5xwqk

— Claire Hayhurst (@clairehayhurst) April 6, 2016
—
9.30 – Five members of the cast of the Channel 4 medical comedy Greenwing will support junior doctors on the picket line at Northwick Park Hospital, London at 11.00 this morning.
Greenwing was first broadcast in 2004 and filmed on location at Northwick Park Hospital.
Speaking ahead of the meeting, actor Stephen Mangan, who played anesthetist Guy Secretan in the comedy, said..
"Green Wing was, in many ways, absolutely ridiculous but it's nowhere near as ridiculous as the mess Jeremy Hunt and the Department of Health have made of these negotiations with the junior doctors. We're here to support the docs at the hospital where we filmed Green Wing and to urge the government to listen to the medical profession's concerns so that this strike action, which no one wants, can end."
Tuesday 5th April
16.20 – As the fourth round of industrial action so far this year approaches, the BMA have issued a statement urging the government to get back to the negotiating table.
Johann Malawana, the chair of the BMA junior doctor committee chair, said…
"We deeply regret any disruption this action will cause to patients, but it is because we believe this contract would be bad for the delivery of patient care in the long term that we are taking this action.
"By imposing a contract that junior doctors have no confidence in and refusing to re-enter talks with the BMA, the government has left us with no choice. 
"We want a contract that is fair for all junior doctors – not one of which the government has admitted will disadvantage women – and ensures that they feel valued and motivated so that the NHS can retain the GPs and hospital doctors of the future.
He adds, "By pursuing its current course, the government risks alienating a generation of doctors. If it continues to ignore junior doctors' concerns, at a time when their morale is already at rock-bottom, doctors may vote with their feet which will clearly affect the long-term future of the NHS and the care it provides.
"Responsibility for industrial action now lies entirely with the government. They must start listening and resume negotiations on a properly funded junior doctor's contract to protect the future of patient care and the NHS." 
—
14.51 – Ahead of tomorrow's latest round of industrial action, a group of NHS staff have launched a judicial review challenging the government's decision to impose a new contract on junior doctors in England.
As the BMJ's Abi Rimmer reports, the campaign group calling itself Just Health has served a "letter of action" on health secretary Jeremy Hunt that challenged his decision to impose a new contract.
This of course follows the BMA's own judicial review which it has launched to challenge the legality of the contract imposition on equality grounds.
—
13.23 – NHS England has published a statement in advance of tomorrow's strike action.
The organisation's national incident director Anne Rainsberry said…
"We've already seen that a 48-hour strike puts considerably more pressure on the NHS and it's deeply regrettable that 1000s of patients are still facing disruption because of this recurring action.
"As always, the safety and care of patients is our number one priority and everything possible is being done to make sure patients will still be able to access urgent and emergency services.
"Following closely on from the four day Easter break this will be a difficult period especially over the course of the second day. Consequently we have redoubled our planning efforts and will be closely monitoring events to make sure we can respond to any rising pressures."