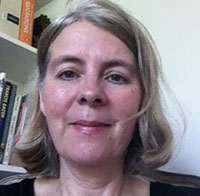 Since being diagnosed with bilateral breast cancer 12 years ago, I have been told countless times that I am lucky to have survived. I hear this pronouncement with equal regularity from my psychologist colleagues, doctors, family, friends, and the world at large. And, of course, I am. But as time has passed, it has become more and more difficult for me to speak out about the long term effects I suffer from—which seem to get worse over time instead of better—not least of all because others get a secondary diagnosis, or cope with another primary one, or die. In comparison my situation appears much better. My expectation was, and others' still is, that I should be better, not worse. However, the reality for me is that there are more days than I care to admit to when the quality of my life is so bad that I don't value living, although I believe that my life is a precious thing.
It's hard though to hold on to this belief when I am coping with a myriad of health problems that appear to be related to my treatment for breast cancer, for example, back to back urinary tract infections, other immune function problems, musculoskeletal problems that limit my mobility, and unrelenting dizziness, all of which started during radiotherapy and have worsened over time. These long term problems have been acknowledged by some who specialise in oncology and in other specialisms too.
However, too often there is an unwillingness to speak out for fear that it will, for example, deter people from going to their doctors with symptoms that are worrying them. Also, I have noticed a certain reticence among many healthcare professionals to accept the long term effects because "treatments are so much better these days." Those same people, understandably, often don't want to face up to the fact that most treatments (not just chemotherapy) are still brutal and their effects often endure.
I also know of psychologist and doctor colleagues who have struggled long term after cancer, even to the extent that they have to give up work or cut down greatly as I have. However, publicly and certainly with patients, they seldom (if ever) disclose their struggles because they believe that to do so is wrong, having been trained to keep the public and the private separate. As healthcare professionals it can be a struggle to accept the validity of our dual perspectives—the conflicts that inevitably arise when the doctor becomes the patient—and many tend to feel they have to be either one or the other. An impossibility, I would say. However, this way of coping can certainly have its benefits in that we don't have to negotiate what could be tricky terrain with a patient.
Indeed, I have heard from healthcare colleagues that they consider it is not "in the interests" of their patients to tell them that, for example, they have been diagnosed with cancer or suffer its effects long term. They also consider that if they are in touch with their feelings that's the main thing and self-disclosure is not necessary. One problem with this approach, from both my personal and professional perspective, is that our patients tend to pick up on our problems, which can create all kinds of misunderstandings. Our tone of voice, our body language, and indeed how well we look can all speak volumes and can upset a patient who might react by thinking that they have done something wrong, or feel that their care is being compromised, or worry about us—to name just three possible effects of our silence on the patient.
So how does a healthcare professional who is diagnosed with cancer or who suffers from its long term effects handle this situation professionally? Are we transparent with our patients or not? We don't often talk about this tricky issue, but perhaps we should because those of us who work in healthcare also have long term health problems, as well as our patients. Most of us are expected, and expect ourselves, to soldier on regardless within a system that does not allow for shows of our humanity. And yet, we are all human.
I made a personal decision when I was first diagnosed with breast cancer to offer my clients information about my situation, if they wanted it, since I had to have several weeks off work, as I had two primary diagnoses within the space of a few months. This seemed necessary and more honest to me, although I confess I was nervous about doing something that ran counter to all my training. However, I had personal experience of being seen by psychotherapists and doctors who had tried to be blank screens, but certainly appeared to be struggling through their own difficult times. It affected my care and that personal experience influenced my professional decision to offer to disclose to patients why I was taking time off work, and to explain I had cancer and was having surgery to those patients who wished to know more.
Most patients wanted to know and, interestingly and in a way that was totally contrary to what I expected, my clients told me that they welcomed what they considered to be shows of my humanity. They told me, in a variety of ways, that my shows of fragility and vulnerability helped them accept theirs and they appreciated my honesty. And this honesty, carefully and ethically handled, has often since been vital to a successful outcome for those I have supported and has changed the way I work—for the better I think.
If anyone reading this blog is personally affected by the long term effects of cancer or knows someone who is, please do contribute to my long term effects of cancer blog. This blog will provide me with personal testimonies I can use in a book I will be writing, focusing on cancer's long term effects and specifically on the theme of survival but at what cost. The book will be primarily for those working in healthcare, although it will also have a wider market.
Cordelia Galgut is an HCPC registered counselling psychologist who works in private practice in London. She was diagnosed with bilateral breast cancer in 2004 and has since been published widely, writing about the disease's emotional impact, as well as on a variety of other issues in psychology.
Competing interests: None declared.