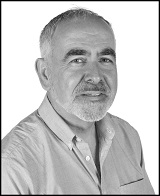 One of the greatest challenges for us as we age is "bar stool gerontology." For most complex subjects—nuclear physics, molecular biology, or philosophy—most of us recognise that some learning and education are required to grasp their fundamentals.
Yet despite the fact that we are at our most complex in later life, it remains acceptable in many walks of life to ignore advances in research on ageing—presumably on the basis of, "Sure, we all know what ageing is."
A staggering example of this gerontological illiteracy was the recent pronouncement by the head of acute care for NHS England that loneliness was driving older people into emergency departments. While loneliness is related to health, study after study shows that older people are much more likely to have an appropriate reason for attending emergency departments than younger people.
Indeed, given that loneliness peaks between the ages of 15 and 35, it is likely that it might manifest more clearly in emergency departments as self-harm, psychiatric illness, and drug dependence at younger ages.
What is also troubling is the uncritical reporting of such issues by journalists of "serious" newspapers who seem equally prone to bar stool gerontology.
An interesting response to this problem is the Journalists in Aging Fellows Program
funded by a number of charities in the United States, which aims to acclimatise journalists to the subtleties and nuances of ageing. This is done by way of sponsored attendance of journalists at the largest annual scientific meeting on ageing in the world, held by the Gerontological Society of America (GSA), and the writing of an article on ageing related to the meeting, which covers ageing from molecular aspects of cell ageing to the philosophy of wisdom.
The outcome is exemplified in an article in the Irish Echo, a paper for the Irish diaspora in the US, on ageing research presented at the conference by Irish gerontologists and geriatricians. There has been a surge in ageing research in Ireland, evidenced by a strong presence at the 2015 GSA conference, held without a trace of irony in the Disneyland Hotel in Orlando, Florida.
The report was a model for engaging the public with research in ageing: reporters in the UK and Ireland might benefit from a similar initiative to ensure that they "get" the longevity dividend and do not revert to lazy and miserabilist tropes of ageing.
In the interim, it is vitally important that geriatricians and gerontologists engage proactively with the media to shape and nuance the debate on ageing—particularly as older people are not only the key consumers of adult healthcare, but also the whole system suffers if the ethos is bar stool rather than scientific gerontology.
The skilful and articulate advocacy of the current president of the British Geriatrics Society, Professor David Oliver, is exemplary in this regard as readers of his BMJ columns will know.
If you are not a geriatrician or gerontologist and would like to develop more insight into the wonders of ageing and ways to promote wellbeing, you might enrol in Ireland's first massive open online course on ageing, which opened on 8 February and which I will help to teach.
Although one might quibble with the title of the course (optimal is preferred to successful), the content is approachable and insightful, and will help you graduate from bar stool gerontology to a more critical and positive perspective on ageing.
Prof Des O'Neill is a geriatrician and an educator on the TCD Massive Open Online Course on ageing.