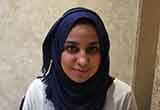 The current refugee crisis and mass migration into Europe is the biggest since World War Two and is probably the greatest humanitarian challenge of the century. The United Nations High Commissioner for Refugees (UNHCR) reported that at the end of last year almost 20 million people worldwide were living as refugees.
I had been particularly moved by some of the images and stories in recent months. Reading about the dangers involved in crossing treacherous seas in flimsy, overcrowded boats as well as numerous drownings and the terrible conditions in transition camps made me determined to assist in some way.
I had always wanted to provide medical humanitarian aid abroad. However as someone aiming for a career in maxillofacial surgery I had assumed I wouldn't be able to do this until I was much further along in my training or at least when I had many weeks or months to commit. I had worked with a charity in Vietnam during my dental school elective providing oral hygiene and basic dentistry to rural communities, but that was as far as my experience went. So what could an FY2 armed with one week's annual leave nearing the end of an A&E rotation really do?
After contacting volunteer groups and NGOs working on the island of Lesvos in Greece where thousands of refugees were arriving daily, I joined a small NGO (Salaam Cultural Museum Medical Missions). Based in the USA with experience of working in Jordanian refugee camps, they were present in a medical and humanitarian capacity. I took basic medical supplies with me—including simple medication, dressings, and a lot of personal protective equipment. There had been reports of a significant lack of medical aid and limited resources. Ambulances could take at least two hours in emergencies and there had been many drowning related deaths on beaches as only rudimentary first aid was available.
My group involved people from a range of medical and non-medical backgrounds and countries. I worked with a multi-disciplinary trans-atlantic team including GPs, junior doctors, dentists, obstetricians, paediatricians, and intensivists. My role involved being stationed at beaches as boats were arriving and dealing with any acute emergencies. Our supplies consisted of large rucksacks provisioned with gloves, dressings, analgesia, emergency foil blankets, antiseptic wipes, glucose tablets, inhalers, and a van containing oxygen, face masks, and ambu-bags as well as defibrillators. Landings could be benign or very traumatic. Luckily I witnessed no instances of drowning myself although there were individuals and often small children who had significant hypothermia. Sometimes boats were found sinking in the sea and rescued by coastguards—in these cases instant triaging and prioritsation of the most vulnerable and unwell passengers was required.
We also provided clinics in the transitional refugee camps. Many people attended with chronic complaints and minor injuries and illnesses, such as chest and urinary tract infections. Many refugees had evidence of torture or shrapnel and gunshot injuries. They then endured a long journey in poor conditions. Often they had to wait long periods to be officially registered and would remain for days at a time in tents in poor weather and limited sanitation. I visited and worked at Moria Camp which had been described as "dreadful" by Amnesty International—even to my untrained eye this was a public health disaster.
The particular challenges of this situation meant I had to be prepared to adapt. I had limited monitoring equipment and so I had to assess people based on clinical examination alone. Seeing a barely conscious, cold, wet, and blue 11 year old girl brought out of a waterlogged boat which had been adrift for many hours and lying on a rocky beach in the cold and rain equipped with only my stethoscope and ABC circulating in my head was a world away from A&E resus and the complete team I was used to.
Despite being an FY2, I found that the principles I had learnt on the numerous simulation days, ALS, pre-hospital, and ALERT courses as well as being the only doctor around to see unwell patients at night in a busy hospital all applied. Additionally I cannot stress how invaluable any GP or A&E minors experience is—the vast majority of medical problems were coughs, colds, and minor injuries.
Despite only spending a week, I feel I learnt a vast amount and had a highly valuable experience while providing some much needed assistance. I would recommend anyone who has the inclination to volunteer to do so. My advice would be to do your research, speak to people who have been, and find a group that has a structure and plan in place. Additionally this unique situation is ever changing—be prepared to be flexible and don't make entirely rigid plans months in advance as you may find yourself somewhere that is over-supplied and with little work to do. Try and buy your supplies locally—not only will this mean you are better prepared to adapt to the current requirements but you also contribute to the local economy and save in shipping and cabin fees. Be prepared for most of what you do to be non medical. I spent a lot of time giving out food, clothes, and blankets as well as helping children discard of wet clothes and obtain new ones. I picked up a lot of rubbish and helped transport people to transition camps. I was a combination of doctor, nurse, healthcare assistants, porter and catering staff. I also often just spent long periods of time talking to refugees—about their hopes, concerns, their hobbies, which family members were waiting and who was left behind.
Ultimately with the ever changing and complex global situation we often feel impotent and unable to impact or influence events. This is one way to use our time and skills—despite thoughts on how limited either may be—and to gain valuable experience in a manner that cannot be taught or simulated.
Competing interests: None declared. 
Zahra Al-Asaadi is an FY2 in Chelsea and Westminster Hospital.