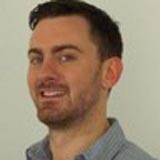 On Tuesday 13 October, while on holiday off the beaten track on the tiny Greek island of Amorgos, I heard that a boat of refugees had landed for the fourth time this year, bringing the total number of refugees who have landed here in 2015 to about 250.
At about 17:30, George Alahouzos, a builder and volunteer with the island's rescue team, drove me down to Aigiali.
On the port's quay, usually quiet apart from a few fishing boats and ferries carrying summer holidaymakers, two policemen had arrested 53 Middle Eastern men, women, and young children. I guessed that none were older than about 40.
One of the island's rescue volunteers told them to sit in a line on the sea wall: "Is everyone here?" He counted them several times. Dressed in jeans, T shirts, and hoodies, their entire possessions in a few small rucksacks, and chain smoking cigarettes, the refugees looked tired but relieved to have reached Europe.
Islanders distributed gifts of water, milk, pastries, fruit, clothes, and shoes. "Last time the weather was not so good. They were dropped a mile away. They were soaking and cold," Alahouzos told me.
I spoke to some of the refugees, who told me that they had come from Syria and Iraq.
Few had much command of English, and desperate people fleeing war who lack identity documents may say whatever they think is most likely to help them achieve their goal of asylum and a new life for their families. Later, volunteers told me that they thought all had come from Syria.
Some of the refugees had left home less than a week ago; for others it had taken a month to reach Greece. Some had walked for days, some with small children, to Turkey before traveling by road via Adana to Izmir.
The refugees told me that they had taken a dinghy to board a yacht, which had sailed for 10 hours before it dropped them at Mikri Vlihada in Amorgos. Most had stayed on the beach; some had gone to find help. They had paid amounts ranging from hundred of euros up to 3000 euros each to sail.
A Syrian man told me that he had left home because of the sustained violence from members of several warring groups in his community. He kept gesturing with his hand across his throat. "It got too much," he said.
Police counted the asylum seekers into minibuses branded with images of smiling holiday makers as the orange sun set over the Aegean sea. The next day I visited the refugees, who were being detained at an empty monastery at the other end of this eight mile long ribbon-shaped island. Families were cramped in bedrooms for two, their laundry hanging outside. Men smoked, chatted, and played with their smartphones. Children ran about in shoes a few sizes too big. A woman wanted a bottle for her infant.
They said that they were in good health, but had been ravaged by mosquitoes. Some had sea sickness, a refugee told me. He told me that they would be able to buy drugs later when a doctor returned.
They had money and were buying cigarettes, toothpaste, and razors from the volunteers. "You didn't bring a football?" one asked. "Who will pay? It's not so easy for me," a volunteer replied.
Volunteers were preparing meals for them while the police began arranging temporary papers. A few days they would be free to buy tickets for the nine hour ferry trip to Athens, and then to Germany or states of the former Yugoslavia, where many said that they had family. Other refugees on Amorgos have been detained in campsites.
This week's refugees may have been relatively lucky, although their journeys are far from over. Others fleeing Syria have died, and winter's stormier seas are coming.
Jenny Gkiougki, an activist also visiting the island, told me, "This has been going on for three years but the world has only just noticed. Lemnos, an island of 8000 people has taken 9000 refugees."
She told me also that on Tuesday, 22 boats brought 966 refugees to the uninhabited Greek island of Agathonisi, just off the Turkish coast.
"This shows the scale of the refugee crisis. And these are the well off. What of those people too poor to escape the fighting?"
The deep generosity and friendliness of Amorgos's 2000 or so permanent residents, particularly while Greece's people suffer deep economic recession, is inspiring, but the island's ability to help refugees is not limitless.
More information:
In a nutshell: The European refugee crisis and Syria explained.
Editorial: Europe's refugee crisis: an urgent call for moral leadership.
Feature: Healthcare for Syrian refugees.
Blog: Die Fluechtlinge: the refugees.
Richard Hurley, features and debates editor, The BMJ.