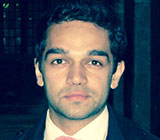 At the Royal College of General Practitioners (RCGP) annual conference in 2014, the chair of council, Maureen Baker, likened UK general practice to a dam that was at bursting point. The metaphor was a fitting one and there was a sense amongst the Liverpool audience of GPs that it captured the enormous pressure that they were facing in their surgeries every day.
Fast forward 12 months and the conference reconvened, this time in Glasgow, ready to celebrate the fact that the dam had not burst and the profession had survived another challenging year filled with austerity, high workloads, and demoralising media stories. And what a conference it was. It was the fifth time I'd attended an RCGP conference and it was undoubtedly the best I've experienced. The word "inspiring" has become something of a cliché when it comes to describing events and conferences, but there's no better word I know to describe the effect it had on the GPs that were fortunate enough to attend.
Kicking off in style was the voice of general practice and chair of the college, Maureen Baker, who has clearly won over the opinion of GP colleagues that she has been representing this year. Speaking to GPs and GP trainees last year after her appointment to the role, there was a sense that she might struggle to fill the boots of her explosive predecessor, Clare Gerada, but her understated and tenacious style have shone through in the last year and her popularity continues to rise. She used her speech as an opportunity to thank the profession for their endless dedication and called on the government to increase the proportion of NHS funding to general practice up to a figure of 11%. "Give us the tools and we will deliver," she promised in her stirring address. As with the dam metaphor last year, her words captured the mood of her audience and she expressed support for trainees about the new contract negotiations both in her opening speech and in later sessions at the conference.
Her concerns about the junior doctor contract negotiations were echoed by the Scottish health minister, Shona Robison, who told the audience she was "appalled" by Jeremy Hunt's plans and gave assurances that the contract would not be enforced north of the border. She also discussed benefit cuts on and other aspects of government policy that are affecting the health of the nation and recognised that GPs are very much at the heart of the important societal debates facing the UK in future decades.
After this great start to the conference, delegates had a huge number of excellent sessions to choose from. Having just completed a year working with NICE as part of a clinical leadership scheme, I was keen to attend a session featuring the chair of the organisation, David Haslam (a retired GP and once president of the RCGP), entitled "NICE and GPs: friends or foes?" The session involved a debate between Haslam and GP and The BMJ columnist, Margaret McCartney, who is often outspoken about the topic of overdiagnosis and making better use of clinical evidence. The session did not disappoint and included some fascinating discussion and debate about the complexity of general practice and challenges of implementing guidelines. Both speakers made some superb points and in actual fact, ended up agreeing on much of what they were debating. For the audience, there was much food for thought and an opportunity to hear from the chair of NICE that they genuinely understand the challenges and are keen to address them. This was very much the sense I got from working with them and it was great to see that the session was so well attended.
The second morning began with a breathtakingly sincere and stimulating lecture by human rights activist, Shami Chakrabarti. She spoke passionately about a wide variety of topics from sharing data to care at the end of life. Importantly, she encouraged GPs to engage with human rights and inequalities and reminded them that they are in a great position to speak up on these topics. This was followed by former BBC Crimewatch presenter, Nick Ross talking about how crime prevention policy can learn from public health and evidence based medicine. In the final plenary presentation of the morning, the chief executive of Cancer Research UK spoke about the importance of primary care in improving key areas including prevention, early diagnosis and patient experience. There was some frustration from the audience, however, that they weren't able to ask him questions and challenge him on some of the points he made.
On Friday, there was an intriguing session about doctors in the media, featuring some Twitter celebrities such as Stephanie De Giorgio (@DrSdeG) and two Glasgow GPs: Margaret McCartney and Des Spence, who are also The BMJ's current and former columnists, respectively. The panel talked about the huge potential of social media, but the overriding message was one of caution. "Never trust a journalist," warned one panel member and the audience were advised to exercise caution when being approached to give comments.
The second day was concluded with a presentation from Professor Greg Rubin to introduce the Lancet Oncology Primary Care Cancer Commission followed by a presentation by Iona Health, former RCGP president and celebrated writer and speaker on the challenges of being a holistic, generalist doctor. Her talk was typically wonderful and covered what is wrong with modern healthcare, including overdiagnosis and overtreatment, corporate greed and inequalities. She ended with a call to the college and wider medical world to engage with the Italian "Slow Medicine" campaign.
On day 3, I was joined by colleagues from different GP backgrounds to talk to trainees, medical students, and newly qualified GPs about the various paths that a GP career can take beyond the surgery walls. I discussed the academic fellowship I'm currently completing and I was joined by GP speakers who are working as postgraduate educators, expedition doctors, journal editors, military doctors, and GP partners in scenic, rural parts of the country. Entry for the third day was free for medical students and there were over 200 of them present. It was great to see so many of them enthused about general practice despite the negative press.
The final session of the conference included three outstanding presentations. Firstly, Martin Roland described the findings of his national review of the primary care workforce. Having combined his academic career with over three decades of being a GP, it was clear he was committed to preserving our great profession and many of the recommendations he presented were met with applause from the GP audience. The second presentation was from the celebrated author of "The House of God," US physician and writer Samuel Shem, who urged UK doctors to fight to stop the NHS from becoming privatised and had some helpful tips for those involved in contract negotiations with the government. Finally, Mike Pringle gave the final address of his term as college president and gave a touching account of his own personal journey, urging the GPs in the audience to work together to achieve excellence.
Conferences are partly about sharing research and practice, but they're also about bringing people together. They allow us to meet old friends and make new ones, share ideas and success stories, recharge our professional batteries and remember that we're all in it together. The 2015 RCGP conference did all of that and more, giving much needed energy and solace to a battered and bruised profession. For more insights, opinions, and some excellent photos, check out the #RCGPAC hashtag on Twitter.
Ahmed Rashid is an academic clinical fellow at the University of Cambridge. You can follow him on Twitter @Dr_A_Rashid
Competing interests: I declare that I have read and understood BMJ policy on declaration of interests and I hereby declare the following interests: None.