The BMJ covers the refugee crisis with four recent articles.
• Kamran Abbasi, Kiran Patel, and Fiona Godlee state that offering asylum is a minimum standard of civilised society. They say that Europe's refugee crisis is the greatest test of humanity faced by the world's rich countries this century.
• A news article by Anne Gulland reports that a study has found that providing migrants with access to preventive treatment rather than waiting until they need emergency care would generate cost savings.
• Another news article reports that Zsuzsanna Jakab, WHO regional director for Europe, has issued a statement saying that no "systematic association" exists between migration and the importation of infectious diseases. She said that communicable diseases were primarily associated with poverty. "The risk that exotic infectious agents, such as Ebola virus or Middle East respiratory coronavirus (MERS-CoV), will be imported into Europe is extremely low, and experience has shown that, when it occurs, it affects regular travellers, tourists, or healthcare workers rather than refugees or migrants," said Jakab.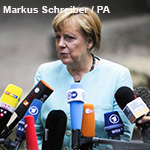 • Rubin Minhas applauds the German Chancellor Angela Merkel for her engagement in the refugee crisis in a blog. He says her courage and convictions suggest her voice and that of her country will rightfully be the predominant voice in the evolving European project.