The case of nutrition researcher Ranjit Kumar Chandra has attracted a news item and a blog. As Owen Dyer reports, Chandra has lost his bid to win damages from the Canadian Broadcasting Corporation for a documentary it broadcast in 2006 which claimed that he never conducted a raft of published studies claiming the benefits of baby formula and vitamin pills in the elderly.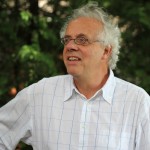 This story began to unravel in 2000 when Chandra submitted a paper to The BMJ that seemed to show that his own patented brand of multivitamins improved memory in elderly people. The level of detail in the study raised suspicions in the The BMJ office and led to Richard Smith (pictured), who was editor in chief at the time, giving evidence at the libel hearing in Toronto earlier this month.  His account of events makes for a fascinating read.
A report of a research study looking at the impact of chemotherapy on quality of life near death raises the question of the purpose this often toxic mix of drugs near the end of life. Chemotherapy made no difference to the quality of life for many patients and was detrimental in others. The editorialists concluded: "If an oncologist suspects the death of a patient in the next six months, the default should be no active treatment."
The BMJ rarely carries obituaries of non-medics, but in the case of Evelyn Gillan it has made an exception. Gillan was director of Scottish Health Action on Alcohol Problems (SHAAP) from 2007 until 2010 and subsequently became chief executive of Alcohol Focus Scotland. Her health policy thinking was grounded in evidence and she played a crucial role in presenting the public case for minimum unit pricing for alcohol, which was approved by the Scottish Parliament in 2012.
Zosia Kmietowicz is news editor, The BMJ
Follow Zosia @zosiamk