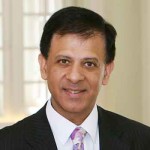 • Chaand Nagpaul, chair of the BMA's general practitioners committee, urges UK health ministers to halt a "surreal obsession" with seven day working at a time when the GP workforce is facing a workforce catastrophe, with more than a third set to retire in the next five years.
Addressing the association's annual local medical committee conference in London, he warned the new UK government that "unless it turns this around we won't have a comprehensive general practice service in parts of the UK."
• A second report from the conference describes GPs' anger at politicians using patients and the NHS as a "commodity" to win votes.
• Social care for older people will be increasingly important as our population ages. So why the silence from politicians, asks David Oliver, president of the British Geriatrics Society and a Kings Fund visiting fellow.  We cannot keep ignoring the crisis in social care, he concludes.
• Roll on the day when doctors type in "offer a self management course" as they prescribe a tranche of new medicines for patients with non-communicable diseases, concludes a blog post by The BMJ's patient partnership editor Tessa Richards.
What's needed now is to spread a social movement to develop, extend access to, and embed self management courses, she concludes.
• In February, Huang Fengping, a Shanghai health official, was jailed for 19 years for pocketing over 4.4 million yuan (£466 000; €640 000; $710 000) by embezzling funds he controlled and accepting bribes.
One of the latest casualties of China's anticorruption drive, the former deputy director of the Shanghai Municipal Commission of Health and Family Planning was caught with more than 400 envelopes of cash in his home and gold bars in his car.
But for many, the wake-up call really came only last September when GlaxoSmithKline (GSK) was fined £297m for corrupt practices in its Chinese subsidiary. Since then, the country has become a much harder place for foreign drug companies to do business in, say Jane Parry and Susie Lunt.
David Payne is digital editor, The BMJ.