Research
• Does early discharge increase the risk of complications and death? A cohort study from Sweden in patients over 50 with hip fracture found an increased risk of death in patients who stayed in hospital for 10 days or fewer.
• Expanding coverage of health insurance in Massachusetts increased access to knee and hip replacement and reduced disparities related to race and ethnicity but not income.
News
• NHS England figures show that nearly a fifth of patients with cancer do not start treatment within 62 days of being urgently referred.
• The US Food and Drug Administration has warned that duodenoscopes can be an infection risk despite meticulous cleaning owing to their complex structure.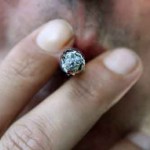 • Controversial plans by the Devon clinical commissioning group to limit surgery for smokers and morbidly obese patients had the unpredictable but financially helpful effect of reducing referrals.
Editorial

• New subgroup analyses from old trials take us one step closer to results that matter to individuals—Rafael Perera and Richard J Stevens discuss a recent post hoc analysis of The Diabetes Prevention Program.
Education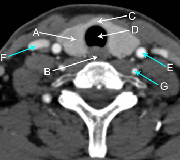 • Our latest anatomy quiz asks you to identify structures of the lower neck on axial contrast enhanced computed tomography.
Sarah Payton is a technical editor at The BMJ.