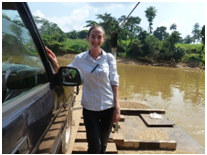 It was a rare privilege to return to Sierra Leone for a couple of months on a break from my PhD studies, where I joined former colleagues at Concern Worldwide in training health workers, volunteers, support staff, and community members on infection prevention and control at peripheral health units as part of the response to Ebola. Concern Worldwide has worked in Sierra Leone since the civil war in 1996, initially providing humanitarian assistance before transitioning to development work.
During the visit, I was able to reflect on some of the weaknesses within the health system in Sierra Leone that enabled the outbreak, and which have the potential to derail future recovery. From the delayed recognition of Ebola as a threat, to the subsequent slow response to the outbreak, Ebola brought to the surface the gaps and inadequacies of a severely understaffed and underresourced health system, which has too few trained health staff and a lack of trust between the community and that health system.
Shifting priorities and multiple tasks
There is huge pressure on existing health workers, particularly community health officers, who are clinical staff with five years of healthcare training. They provide and supervise health activities within their community under overall direction of the district medical officer—a medical doctor.
In addition to their regular activities, the most qualified staff in the district are seconded from the district health management team to work on various interventions, sometimes concurrently and often changing on a weekly (or even daily) basis as priorities change within the district.
As part of the response to Ebola, different implementers have entered communities seeking to provide a full range of interventions—from case investigation, to training in infection prevention and control, training and mentoring for staff working in community care centres, running holding centres, working at Ebola treatment units, and so on—with each of these interventions drawing on the same pool of community health officers within a district.
Priorities change as new players arrive with new funding, new reporting requirements, and with varying degrees of influence. While an expansion in the response to Ebola is undoubtedly positive, a lack of coordination among donors has sometimes created confusion, since one priority could be replaced with a seemingly conflicting intervention that now took precedence. This created challenges in ensuring coherence between so many stakeholders within such a rapidly changing situation. For example, the introduction of community care centres occurred at such a rapid pace that decisions regarding testing and referral of patients were still being determined when the first patient was admitted, creating confusion for staff and patients.
The community response
My PhD involves studying lay community health workers, so I am interested in the part that community volunteers have played so far in the response, from burial team members to contact tracers and screeners. One question this raises is to what extent the response to Ebola has engaged with existing community health workers.
Concern Worldwide has sought to engage with community health management committees, as well as community health workers it had previously trained, who are keen to respond and to help their communities. However, there are also stories of trained community health workers being neglected during the selection of contact tracers.
What will the future consequences of this be? For community health workers who have previously worked for small incentives, to be ignored while others take on the role and financial allowances associated with contact tracing must undoubtedly be demotivating.
Community health workers recruited into a contact tracing or screening role bring with them skills, experience, and community acceptance. In addition, any training and experience that is gained by community health workers through Ebola response roles can be adapted and put to use in the future. In a country where, for example, cholera is endemic, these skills could be valuable in strengthening the health system.
While the number of people contracting Ebola in Liberia has decreased dramatically, the number remains much higher in Sierra Leone (although it is decreasing).  This raises many questions as to the reasons behind the differing outbreak trajectories within these neighbouring countries. Why has Liberia been more successful in reducing the number of Ebola cases? And what lessons can Sierra Leone learn to ensure continued reductions there? Have there been substantial differences in the countries' responses to Ebola, or is it owing to underlying contextual and health system factors?
I wonder if these differences are partly because Liberia has a longer history of working with established community health workers compared with Sierra Leone, who introduced their community health worker programme in the past few years. Has this longer established community health worker network been mobilised more effectively in recent months in Liberia?
What next?
To ensure the eradication of Ebola and to develop Sierra Leone's health system for greater resilience beyond this outbreak, it is vital that actions taken now contribute towards strengthening the health system, especially with the future in mind. The focus should be on:
• Long term commitment to fund the strengthening of the health system at the district and national level, including the training of health workers.
• Strengthened governance, coordination, and reporting, building on lessons learned through case investigation and contact tracing from community level to the national level.
• Improved infection prevention and control standards within all health facilities in the country—through regular ongoing mentoring.
• Improved human resource systems (which also accommodate the many volunteers currently working on the response to Ebola) to ensure timely payment of workers' salaries and risk allowance.
• Empowered health workers who can demand supplies and equipment, which they need for their work and protection, through strengthened supply chains.
• Integration of rapid diagnostic tests for Ebola, with services at the new community care centres to provide access to safe testing that is relatively close to patients' homes for earlier diagnosis.
• Re-establishing the trust of communities in their health system for non-Ebola related illnesses—through engagement with communities and their health management committees.
Rosalind McCollum is a PhD candidate with the REACHOUT Consortium at the Liverpool School of Tropical Medicine.
Competing interests: None declared.