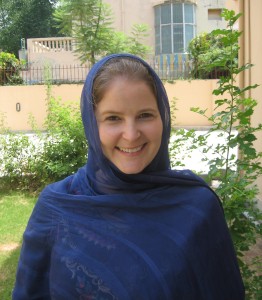 I have been in Pakistan for six months, two thirds of the way through my nine month mission. Before working in Pakistan, I had spent some time working in the north of Australia with the Aboriginal community. In the Northern Territory of Australia, there is a big issue with malnutrition in the Aboriginal population, especially in the remote communities. Having worked there for some time, I thought it would prepare me for working here . . . but it does not even compare.
Last week, a young boy was admitted with malnutrition, weighing only 6.7 kg. He was so small and so sick that he was just lying on the bed, barely moving. He even had a pressure area on his lower back from being so inactive at home, too malnourished, and too weak to move. But he is not the only one. Our inpatient feeding unit is full of children just like him. It means that for a children's ward, it is eerily quiet. You don't hear the usual noises of children playing or laughing or even crying, which I am used to back home. These children are just too sick and too weak.
When most people think of treating children with malnutrition, images of Africa are more likely to come to mind—probably from television advertisements asking us to donate to feed the starving children there. And while the problem of malnutrition is widespread in many parts of Africa, here in Pakistan—and especially in Balochistan—it is also a huge problem, with over 30% of children malnourished.
There are many reasons for this, including food insecurity, poor nutritional status of mothers, frequent infections, and limited access to healthcare. Here in Dera Murad Jamali and in our outreach centres, MSF treats almost 10 000 children each year with severe malnutrition. And unlike in Africa, owing to difficulties with breastfeeding practices, a lot of the children we treat are younger than 6 months of age.
Sometimes they come to us so tiny, I wonder how they have survived—just yesterday we admitted a 3 month old baby weighing a mere 1.6 kg! Often there is a pressure for us to give these babies formula milk, rather than trying to re-establish breastfeeding, but formula milk is not the answer. It brings the added problem of increased risk of diarrhoeal disease, and it doesn't replace the benefits of a mother's milk. And there is the added problem of tuberculosis in the community, which can compound the effects of malnutrition.
But we do have many successes. And seeing these often almost lifeless bodies recover into laughing toddlers again is one of the most amazing joys I have seen here. And as life returns to the children, so you see it in their mothers' faces, as they too see the transformation.
The boy who had developed a pressure sore on his back from inactivity is being discharged home today. He was also diagnosed with tuberculosis and has now started his treatment; he is eating well and gaining weight. While he has still not reached his target weight, we will continue to treat him in our outpatient nutrition programme with regular check-ups and provision of his therapeutic food.
I have yet to hear his laughter or even see a smile, which has earnt him the affectionate nickname of "the angry bird" as he sits in the ward in his yellow beanie scowling at us, but the smile I see on his mother's face is wonderful. She tells us how happy she is that we have made her child well again. She is so grateful that he has been given a second chance. While we are not able to change the circumstances of this family that led them to need our help, with close follow-up we can hopefully ensure this young boy will get adequate nutrition and, hopefully, survive into adulthood.
Nikola Morton has been working in Balochistan province in Pakistan since May 2014. Her position is called "The Flying Paediatrician" as she works across two projects—Chaman and Dera Murad Jamali (DMJ). She trained as a paediatrician for the last six years in Sydney, Australia, and this is her first mission with MSF.
Competing interests: None declared.
About MSF in Pakistan
MSF has worked in Pakistan since 2000.
Health services in Pakistan are often unaffordable, and in many regions conflict and insecurity further restrict access.
In many parts of Pakistan sectarian violence is rife. Government forces are also engaged in military operations against armed opposition groups.
Médecins Sans Frontières/Doctors Without Borders (MSF) programmes focus mainly on meeting urgent needs among communities affected by insecurity.
At the end of 2013, MSF had 1528 staff in Pakistan.
Please give generously to Médecins Sans Frontières
· £38 can pay for a suit to protect against Ebola virus
· £53 can send a doctor to the field for a day
· £95 can provide a year's supply of treatment for a person living with HIV
· £153 can provide lifesaving blood transfusions for three people
You can donate:
· Online at www.msf.org.uk/thebmj
· By phone: 0800 408 3897
· £5 by texting "Doctor" to 70111*
*UK mobile networks only. You will be charged £5, plus your standard network rate. MSF will receive 100% of the £5 donation. If you have any questions please call +44 (0)207 404 6600.