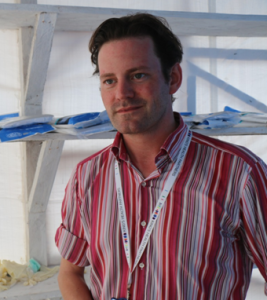 Welcome to the first blog about my return to Sierra Leone. This week a few reflections on the organisation I am here with, the country, and the Ebola epidemic as it unfolds.
KSLP
For the past two years, King's Sierra Leone Partnership has worked with our partners—Connaught Hospital (the only adult referral hospital in the country), the College of Medicine and Health Sciences medical school (COHMAS), and the Ministry of Health and Sanitation (MOHS)—to help support and strengthen medical education, health policy, and clinical services in the country.
KSLP is a branch of King's Centre for Global Health, and through our infectious diseases programme, which I lead, we had started to develop a programme of work around tuberculosis, HIV, infection control, and laboratory strengthening. The goal was not to deliver clinical care ourselves, but rather to support the development of local services through regular volunteer trips, long term staff placement, and distance advice and mentoring.
Then Ebola virus disease (EVD) struck. Our scope magnified considerably. We started isolating patients to keep Connaught Hospital operating and staff and patients safe. We started treating EVD.
Our team in country, lead by our clinical lead, Marta Lado, and our programme director, Oliver Johnson, have now cared for over 600 patients in our isolation unit, more than 350 of whom are confirmed positive EVD cases.
Dr Marta Lado and Dr Oliver Johnson with the general ward infection supplies donated by Guy's & St Thomas' Hospital.
We have opened four other isolation units in Western Area hospitals, keeping those facilities open to provide care for a population that has seen a near complete shutdown of existing healthcare facilities. Our first dedicated treatment centre is planned to open later this month. We provide strategic advice to national, non-governmental organisations, and international collaborators. We have a growing team of dedicated, brave, and resilient volunteers. We have adapted to the disease.
Sierra Leone
Sierra Leone is a small country of six million people in an area not much larger than Wales. Despite years of internal conflict—the provenance of which is difficult to explain simply, except to say it involved substantial Liberian paramilitary influence and has not left divisions across ethnic or religious lines—Sierra Leone is a peaceful and welcoming country. As rich in beaches and natural scenery as it is in the warmth of its people, it held the promise of a country where increasing prosperity was seen year on year. A promise of a better future lay ahead. The isolation from the world lay behind . . .
Freetown, from the surrounding foothills
As I arrive back in Freetown, after last being here in June, much is the same as before, although the signs of Ebola permeate. Temperature checks and health screening greet you at Lungi airport, and with no direct air link, what used to be a six hour flight is now a challenging five country journey (London, Brussels, Dakar, Conakry, and Freetown). Chlorine buckets outside every enterprise and the lack of music in the streets remind you that business is not as usual. But life for most continues with a semblance of normality: children play and laugh, although there has been no school since June; families gather and celebrate; men flirt outrageously; women have their hair braided in outdoor salons; construction and trade continue. A casual observer could be forgiven for thinking that EVD had not devastated this country.
 Ebola
Inside our isolation unit, however, through the fog of a misty visor, the realities of EVD become clear. Every effort is being made to provide high quality, safe care: nurses provide antimalarial and antimicrobial treatment, along with encouragement and assistance to help patients eat and drink; cleaners regularly decontaminate all surfaces and floors; medical volunteers assess hydration and clinical status, and provide symptomatic pain and sickness relief. Despite this, any EVD unit looks shocking at first site. Contorted bodies, patients moribund with diarrhoea or prostrate on the floor, people living and dying with EVD.
These patients come from families or communities that have been ravaged by the disease, where life does not continue as normal. Fear and concern for your own life and those of your loved ones occupies your waking moments. When your mother, your sister, your daughter becomes ill, do you take care of them, risking your life to do so. Do you wait and hope that it is malaria, although you aunt died last week of Ebola. Or do you seek care, acutely aware that the odds are against you ever seeing your loved one, or their body, again.
As the epidemic increases with pace in this country, in Connaught we are unable at present to isolate and refer positive patients at the speed at which they present. Many are turned away at the door as we are at capacity. To turn the corner we need more screening, more laboratory capacity, more holding units, and more treatment facilities. That will allow the backlog to get into care, safe from the family they may infect. The more facilities available, the more care will be adequate, and the more patients will trust their lives to them.
We can do this. Guinea, and more recently Liberia, have been reporting fewer new infections. I visited two large and several smaller facilities this week, all opening in the very near future. There is a large and growing international presence in the country, with the British military and Department for International Development prominent among them. The Public Health England laboratories opening at Kerry Town will substantially increase the capacity to get a rapid diagnosis. But we need more—we need staff to help advise on the construction of new facilities, we need staff to man them, and above all we need staff to treat patients. And we need them now.
Colin Brown is infectious diseases lead, King's Sierra Leone Partnership.
Competing interests: Nothing further to declare.