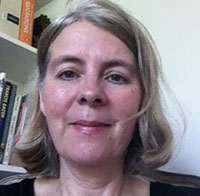 Before being diagnosed with primary breast cancer myself, aged 49 in 2004, I would offer emotional support to women with this diagnosis, and arrogantly assume I understood pretty well what they were going through, at all stages—and my then clients were too polite to tell me to the contrary. Little did I know! Life on the other side of the breast cancer divide, as a patient, not a psychologist, differed hugely from how I understood it to be. For a start, it was a much more harrowing, long drawn out process, both physically and psychologically, than I could ever have imagined. It challenged my sense of myself as a woman much more than I could ever have foreseen, to say nothing of my theoretical beliefs as a psychologist. Indeed, I still suffer breast cancer's fallout 10 years on.
However, when I started voicing this mismatch, as I perceived it, I found I often encountered disapproval and disbelief from people in all walks of life. They'd say things like, "It's a year now since you were diagnosed. You shouldn't be feeling so anxious," or, "Aren't you back to normal yet?"
Disconcertingly, despite my better judgment, these comments started to really bug me and worry me that I was indeed overreacting to my diagnosis, which in turn made dealing with breast cancer even harder. Fortunately, I began to realise, as I started writing and talking about this mismatch and getting feedback from other women with breast cancer, that I was not alone in feeling the way I did — for example, enduringly anxious and terrified of recurrence. This was something of a relief.
Furthermore, other women would tell me they were constantly censoring their thoughts and feelings for fear that they would be deemed to be overreacting or even mad if they voiced these things. Indeed, as I could well understand, a part of them would actually feel mad, since they had been brought up in this society, as I had, to believe feeling and expressing deep and enduring emotions is OK to a certain degree, but doing so too extremely or for too long is abnormal.
Overall, my own experience, over the last 10 years — plus that of the hundreds of other women, their partners, families, and friends I have chatted to, interviewed informally, and those who have written to me — have made me reflect long and hard on the appropriateness of a lot of my many years of psychological training and the medical model approach to emotional distress.
Over time, I have, therefore, heavily redefined for myself what is a normal psychological response to extreme trauma, in the face of a fair degree of opposition from certain quarters, at points. It turns out that deep and enduring emotions are part and parcel of the human condition, after all, not a pathology and that has been something of a revelation to me.
My latest book, Emotional Support through Breast Cancer, which I am delighted to say was recently highly commended by the BMA, came about because feedback told me that there was a great need for an accessible, short reference book that offered more realistic support to women with breast cancer, one that validated their extreme and enduring emotions and confirmed how normal these responses are. To date, feedback confirms the need for more of the same and across a range of extreme life traumas, not just breast cancer. It's amazing how little support there is on offer that normalises these natural human responses, rather than pathologises them. My question for all of us in the healthcare profession is: why is there not more?
Competing interests: I will receive royalties from the book I wrote that is mentioned in this piece.
Cordelia Galgut is an HCPC registered counselling psychologist who works in private practice in London. She was diagnosed with bilateral breast cancer in 2004 and has since been published widely, writing about the disease's emotional impact, as well as on a variety of other issues in psychology.