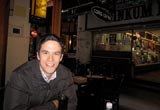 As a GP who didn't train in the UK and who has never worked in the country as a GP, I follow the situation of general practice in the UK with great interest, but from a certain distance that characterises an outsider such as myself. I am well aware that general practice in the UK is going through difficult times, with a recruitment crisis, many GPs facing increasing workloads and on the verge of burnout, and some even leaving the country behind to work further afield.
The recruitment of GPs has always been a problem all around the world, for many different reasons. Despite everything, GPs in the UK remain among the best paid GPs in the world, which means we must look way beyond pay as an argument to attract more GPs to the trade.
I absolutely loved reading Samir Dawlatly's blog about the joys of being a GP, and I could not have put it better myself. I find that having intimate and meaningful conversations with patients, being able to sense and deduce when something is wrong, and ultimately making a difference to patients and their families are just some of the unique but most rewarding aspects of the job that I'm sure every GP on the planet is well aware of.
I don't have a formed opinion on whether GPs should be paid £55 for each new diagnosis of dementia, as recently announced by NHS England, but our regular columnist, Margaret McCartney, does. In her latest column, she says she is not convinced that GPs should be doing something just because they're paid to do it, considering that screening patients for dementia "has not been shown to be accurate, effective, or useful." She adds that politicians seem to be undermining patients' trust in GPs and calls for patients to advocate change for GPs.
GPs in the western world see patients with dementia quite often, but certainly not Ebola. Nevertheless, GPs also need to be properly briefed and trained to deal with suspect cases, particularly those who are working in the catchment area of major global aviation hubs, like London and New York City, which are by far the biggest city airport systems in the world. And, as reported in a news story in The BMJ, New York City has in fact seen its first case being diagnosed within its jurisdiction, namely a doctor who had just returned a few days before from a tour of humanitarian work in Guinea-Conakry working for Doctors Without Borders.
New York's governor has said that healthcare professionals in New York City have been training for months to deal with Ebola cases, and preparations seem to be underway for both GPs and hospital doctors working in the UK's National Health Service to be up to speed on how to deal with potential Ebola cases, as reported in another news story. Pay and training aside, GPs in any country need support and respect from local politicians to remain and flourish in the profession.
Tiago Villanueva is assistant editor, The BMJ.
Competing interests: I work as a locum GP in Portugal and am part of the Portuguese delegation in the European Union of General Practitioner's / Family Physicians (UEMO).