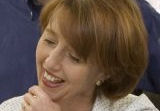 Walnut whip, the Carpenters, and Candy Crush are just some of the guilty pleasures to which doctors have admitted when filling in our questionnaire for BMJ Confidential. This week it is the turn of Louis Appleby, who was national director for mental health from 2000 to 2010, and for offender health from 2010 to 2014. His particular interest is suicide and he still harbours the ambition of reducing the suicide rate again, which was at an all time low in 2007.
Appleby does not reveal whether he thinks the rate reached such a low because of the then government's effective mental health policies, or the booming economy before the 2008 crash, but he thinks there is hope for a reduction now because doctors no longer see suicide as inevitable and the health service as powerless to prevent it.
He admits to liking former health minister Alan Johnson, the writer Primo Levi, and caviar and oysters, while one of his pet hates is the phrase Cinderella service, when it is applied to mental healthcare. The phrase is "self-pitying and out of date," he says. His guiltiest pleasure is Twitter.
I deliberately avoided starting this article with a reference to the Scottish referendum because, now that it is finally over, I am hoping that the issue won't continue to fill every square inch of the newspapers as it has done for the last two months. But I daresay there will now be many column inches devoted to increased devolution and what it means.
Many doctors in Scotland said they would vote "Yes" to prevent the health service north of the border becoming increasingly commercialised, along the lines of the English NHS. For those doctors, and others who hate to see the way the NHS is adopting some characteristics of the US system, there is a cautionary tale on bmj.com today.
A Michigan oncologist has admitted in court to falsely diagnosing patients with cancer and giving them unnecessary chemotherapy in order to bill Medicare for more than $220m. Farid Fata, 49, who ran a cancer treatment clinic called Michigan Hematology Oncology, with seven offices in the Detroit area, and a diagnostic testing facility, pleaded guilty to 16 counts of healthcare fraud, conspiracy, and money laundering. Evidence included emails relating to a castle he wanted to buy in his native Lebanon.
Fata's guilty pleas covered 10 patients, but he had 1200 on his roster, and it is unclear how many received false cancer diagnoses. At least 20 civil suits have been filed. One patient preparing legal action, Dave Kroff, attended Fata's clinic 13 days a month for seven years, receiving chemotherapy for a disease he never had. The potent drugs so damaged his immune system that he lost both legs to infection.
Finally, new research shows that actress Angelina Jolie's decision to undergo a double mastectomy, after discovering she was carrying a mutation in the BRCA1 gene, had the effect of considerably increasing referrals to genetic testing centres in England. And the work, carried out by researchers at the Genesis Breast Cancer Prevention and St Mary's Hospital in Manchester, shows that the vast majority of referrals were appropriate.
Annabel Ferriman is news editor, The BMJ.