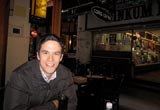 GPs are a key audience of The BMJ, and we work hard to develop content that is highly relevant for the needs of GPs around the world. This week, The BMJ's staff is in full swing in Lisbon, Portugal, and the occasion is the regional conference of WONCA (The World Organization of Family doctors), which is aimed at GPs from all over Europe. Nevertheless, I've heard the 3400 participants come from over 70 countries.
Kamran Abbasi, The BMJ's international and digital editor, is delivering a keynote lecture on knowledge management on Friday, and I'll be participating in a panel discussion about overcoming the difficulties of publishing in medical journals, along with the editor of the British Journal of General Practice and the editor of the Portuguese Medical Journal. Moreover, if you happen to be attending the conference, my colleagues Jayne Burton and Rosie Warrall will be manning The BMJ's stand and will be happy to tell you about the first ever bundled subscription of The BMJ and BMJ Learning, which will be promoted at the conference.
GPs are trained to provide comprehensive care, aimed at meeting up to 90% of the needs of patients. But GPs often need to refer patients to the emergency department or to hospital specialists when they realise the patient's management goes beyond their level of competence. In the latest Endgames picture quiz, Ilias Georgalas and colleagues take you through a case of a 72 year old man, who was referred by the GP to the emergency department because of a three day history of sudden, painless loss of vision affecting his right eye, with the diagnosis being central retinal artery occlusion.
Urinary tract infections (UTI) in older adults are a common condition that GPs find in their practice pretty much every week. In the most recent Talk Medicine Podcast, Mabel Chew, a GP herself and The BMJ's practice editor, discusses the caveats of when and how to test for UTIs with Gavin Barlow, from the department of infection and tropical medicine at Hull & East Yorkshire Hospitals NHS Trust.
The World Cup is well underway now, and a few weeks ago I mentioned Jonathan Gornall's Feature covering the decision of the Brazilian government to end the longstanding alcohol ban in stadiums, which was influenced by FIFA. In the meantime, Gornall has also been interviewed by The BMJ's Duncan Jarvies, so have a look at the Podcast to learn more.
Tiago Villanueva is the editorial registrar at The BMJ.