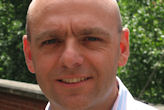 Each Tuesday at our morning meeting, we suggest ideas for the print journal's "picture of the week" before it goes to press. If today was a Tuesday, I would propose this image (copied below) by GP David Shepherd, which was submitted as a rapid response yesterday to Margaret McCartney's article, How to undermine general practice.
"Our NHS is fragmenting and dissolving under our watch: what are we going to do about it?" she asks.
Dr Shepherd is being modest when he describes his artistic talent as limited, but says he would paint an even bleaker picture a year on. "If I was drawing it this year, the sea wall would be somewhat thinner, the proportion of GPs retiring larger, and the tap of un-evidenced activity on more fully."
Click to enlarge
In an earlier column, Margaret lamented the demise of the team wide coffee break due to the pressures of attaining QOF points, and handling new innovations and activities, which "someone presupposes is good for doctors to do."
Retired surgeon Norman Matheson, in his response, cites a recent letter on the same topic in Aberdeen's Press and Journal newspaper:
"In the distant past, after a ward round, medical and nursing staff used to repair to sister's room for coffee. Discussion about individual patients and their needs continued away from the bedside. More significantly, these brief interludes fostered team spirit among medical and nursing staff. The first nail in the coffin of this convivial custom was a management edict that henceforth doctors must wash their own cups. Soon after sisters' rooms were abolished."
Matheson concludes: "Managers (and politicians) would do well to reflect on the aphorism that hung on the wall in Albert Einstein's office at Princeton: 'Not all that counts can be counted and not all that can be counted counts.'"
Are things better elsewhere? Certainly not in Australia. In 1966, my Aunty Joan and her family joined thousands of others in fleeing Britain as a "ten pound pom," migrating to Australia as part of their "populate or perish" initiative to increase the number of residents. Joan, a belligerent smoker, lived until her late 80s and received excellent health and social care throughout. My cousins may not be as lucky in their old age.
Doctors and public health experts have condemned the conservative government's federal health budget, prompting freelance journalist Melissa Sweet to ask if this is the beginning of the end for universal healthcare in Australia.
Aunty Joan would have had a few things to say about that.
David Payne is editor, bmj.com, and readers' editor.