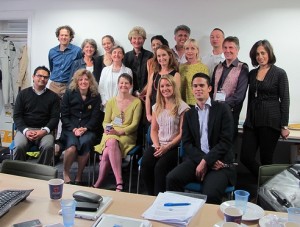 The BMJ tends to hesitate over anniversaries, especially its own, but today marks 25 years of the best training scheme in the history of medical journalism. I would say that, I'm a former editorial registrar. So is editor in chief, Fiona Godlee. As is deputy editor and head of research, Trish Groves. Helen Macdonald and Sophie Cook, editors of the analysis and clinical review sections respectively, are two more. Tiago Villanueva, a Portugese family doctor and former editor of the Student BMJ, is the current editorial registrar.
Trish was the first to be appointed to the post, the mother of all editorial registrars. In 1989 The BMJ was entirely a print publication: manuscripts were triple copied and handed between editors like patient case notes; any rare emails that we received, so Trish tells us, were printed out and retyped to create a properly formatted paper file; and editors had their own room with a red light above the door, which was turned on when the occupant was too busy to be disturbed—the presumption being that editors, who were almost exclusively doctors, needed to devote their full attention to the important business of reading manuscripts and editing copy.
The BMJ's editorial registrar scheme, brainchild of former editor in chief Richard Smith, is designed to train doctors in the skills of medical journalism. It is a one year post that encompasses writing, editing, critical appraisal, and some management and business experience. It's also fun. Theoretically, an editorial registrar is supernumerary and able to pursue her (it's usually a "her") own enthusiasms. This is true to a degree, but it's hard to resist the pull of the day to day work of The BMJ. Being closely involved with the production of a high profile weekly publication—now daily on the web—is one of the thrills of the job.
The intention, made clear at interview, is that editorial registrars complete a year of training at The BMJ and then return to their clinical careers. The reality is different. Few editorial registrars go back to their old job. The editorial registrar year is a gateway to a new world of opportunities, usually related to medical journalism and often to other products of the BMJ company, if not The BMJ itself. Luisa Dillner, Guardian columnist and former editorial registrar, has developed many major products for the BMJ company, such as BMJ Learning. Clearly, the people who apply and are appointed as editorial registrars are self selected, seeking a route out of clinical medicine, or something in addition to it, whether they realise it or not.
Whatever your expectations at the beginning, the registrar year tends to be a life changing experience. Registrars may end up with a new career, but they also acquire friends, mentors, gurus, influential contacts, enemies, and even babies en route. The BMJ is a particularly, perhaps dangerously, fertile place to work. The late Professor Roger Robinson, after whom the registrar scheme became named, was a mentor to many trainee editors, holding our hands patiently as we tried to make sense of multiple regression and bootstrapping, and helping us understand the importance of the sledgehammer to nut ratio in any paper.
Last week The BMJ hosted a 25th anniversary reunion, where former editorial registrars described how the registrar year changed them and what they did next. A few themes emerged. Invariably, there is an editorial component to the work of ex-registrars. Many are now in portfolio careers, with some elements unrelated to medicine. They are an international group. Jocalyn Clark, the first Canadian and non-medic to be appointed, is editorial director of ICDDR,B in Bangladesh, where she fights for better health for the poor by keeping medicalisation out of global health, and advocates a focus on basic services such as clean water and sanitation. Gavin Yamey, once a budding UK neurologist, is professor of global health at the University of California, San Francisco, where he is taking a leading role in achieving the grand covergence, which means improving the health indicators of low income countries to the levels of those in middle income countries.
Sandy Goldbeck-Wood, who sat on my interview panel, is now a lecturer in obstetrics and gynaecology, living in Arctic Norway and preparing a PhD on poetry and medicine. Douglas Carnall, a founding editor of career focus, has moved to France where he writes under a pseudonym and cycles everywhere—even to London for the anniversary event. Others have been chief executives of companies, created major new publishing services, written books, appeared on television and radio, run national medicines agencies, and helped build research capacity in their native countries. Some have ventured back into hospital medicine and family practice. These editorial talents have helped develop many medical journals. PLOS Medicine, The Canadian Medical Association Journal, The Bulletin of the World Health Organization, and Deutsches Arzteblatt, for example, have all benefited from editors trained by The BMJ's registrar scheme.
That's some achievement for a merry band of less than 30 people who knew little about the world they were about to enter. But this personal development has only been possible because The BMJ is an environment that allows intellectual growth and has values at the heart of its work. Even an average medical student and run of the mill doctor—take me for example, an immigrant with no connections—can develop as an individual courtesy of the editorial registrar year. It is for these reasons that registrars feel fortunate. The BMJ has been lucky too in the people it has attracted. Loyalty works both ways, and it has. The editorial registrars have all played a part in The BMJ's journey and will continue to do so. Those who are no longer on staff are our sleeper cells around the world, waiting for a signal to be activated to support The BMJ on its mission to create a healthier planet.
Note: Recruitment for this year's editorial registrar has been completed. Please keep an eye on BMJ Careers for any future opportunities.
Kamran Abbasi is international editor, The BMJ. You can follow him on Twitter @KamranAbbasi