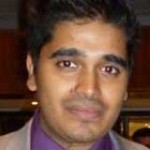 The European Working Time Directive (EWTD) has reduced the number of hours that trainee doctors have to hone their skills. As a junior surgical trainee, I find that time in theatre is of the essence when it comes to improving my operative skills. "The Time for Training Report" highlighted these challenges with suggestions on how trainees can overcome the training barriers produced by EWTD. One of the key developments is simulation training. Simulation training forms an excellent way of developing skills in a controlled environment without causing potential harm to patients. These skills can then be transferred into real life operations. The upshot is that when operating on patients surgeons are honing their skills rather than learning from scratch.
As a core surgical trainee I have been in the midst of the evolution of simulation training. During my foundation training I was exposed to a model of inserting a grommet into an ear drum, consisting of nothing more than a 5ml syringe and Saran wrap. This simple model, while not being overly realistic, allowed me to develop the basic technique for grommet insertion that I could apply in real life.
I have also had the opportunity to use a "take-home" laparoscopic trainer set, surgical simulation on synthetic models, and surgical simulation on cadavers (human and animal). One of the key limitations of synthetic models is the inability to replicate the look and feel of a real patient. However, newer models I have used have been excellent. An inguinal hernia simulation model that I used recently even had arteries, veins, and nerves incorporated into the model.
More realistic tissue handling can be produced by cadaveric models of simulation. Over the past year I have undertaken simulation training for ENT endoscopic procedures on ovine and porcine models. I found these models to be better than synthetic models with regards to developing the subtleties of tissue handling. The only caveat was the anatomical variation in animals compared to humans.
My best experience of simulation has been on human cadaveric models. I undertook a temporal bone course where I was able to perform two complex operations (radical mastoidectomy and tympanoplasty) on a human cadaver. At my level these are procedures I would normally observe or assist with.  In this controlled environment of a high-tech simulation lab I was guided through the entire procedure by experts. More senior trainees on the course felt that the cadaveric model was almost true to real life barring the lack of bleeding. In my experience human cadaveric simulation is the best form of simulation. It should be noted that simulation on human cadavers is expensive and potentially challenging to set up.
Surgical simulation training has come a long way in the last decade and has begun to take some of the burden off the pressures of training in the EWTD era. Synthetic models are improving, however human cadavers are better with regards to simulation of real life anatomy. Simulation will continue to play a major role in training surgeons and potentially the gap between the quality of simulation and real-life operations may be bridged in the future. There does have to be a balance and surgical simulation may never fully replicate a real life operation. In addition a cost to benefit analysis must be considered as some models of simulation are very expensive. There is a clear role for simulation to be incorporated into surgical training and in many deaneries this is already in place.
The pertinent question is whether surgeons of the EWTD era will be as operatively skilled and experienced as consultants in current and generations gone by. Only time will tell.
Competing interests: I have no competing interests to declare.
Kiran Varadharajan a core surgical trainee (Year 2) currently working in the London Deanery.