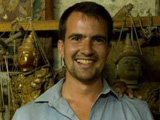 I remember thinking that I finally understood what the phrase "hard to reach villages" actually means. After a full dawn-to-dusk boat journey the day before, myself, three Burmese colleagues, two portly government midwives, and the skinny boat owner, pushed off into the narrow river. The wooden boat was the smallest you can imagine seven adults fitting into. One sneeze and I feared we would tumble in.
The river was so narrow I could reach out and touch the foliage. Light green snakes occasionally skimmed its surface. While watching the river banks drift by, I reflected on our collective effort. What struck me most was that this was the exact reverse of the journey a pregnant woman in obstructed labour would have to take.
I work as a health advisor for Doctors of the World, helping its field team in providing health education and access to quality maternal and child healthcare for people in the Irrawaddy delta, which in May 2008 was struck by Cyclone Nargis, resulting in around 130 000 deaths.
The Burmese Doctors of the World workers directly assist the government health staff and village volunteers with training, referral funds for some emergencies, pharmacy supplies, logistics, and moral support.
Successful and sustainable primary healthcare in remote, resource poor settings is far less headline grabbing than disaster relief, but it is just as challenging and just as important. I'm happy to see NGOs such as Doctors of the World rising to that challenge and committing to long term projects. Primary healthcare involves every step of a patient's journey being considered. A pregnant woman in a hard to reach area needs to understand when she is in trouble or at risk of health problems: education is vital to raise awareness and understanding.
But this is not enough: there must be infrastructure to get her to an appropriate facility. In turn, this same woman needs to have confidence in the facility she is heading to and will go there happily only if she is supported with the costs involved. If you are poor and one medical emergency will drop your entire family into crippling debt, you can bet that traditional medicine and delaying the decision will look like far more attractive options.
Our visit to the village finished with an interactive quiz about safe motherhood, and for the three teams of villagers involved it became an absolute riot of laughter and shouting. After, as we slipped and squelched our way down the muddy track back to the boat, I thought again about a pregnant woman having to tread the same path. The idea of this journey in an emergency, in bad weather, at low tide or at night, seemed unimaginable. At least now, it is becoming more possible. The alternative, not making the journey at all, is far more terrifying.
The BMJ has chosen Doctors of the World for this year's Christmas charity appeal. Please support the appeal by donating:
Online at: www.doctorsoftheworld.org.uk/BMJ
By text message: text DOCTOR to 70030 (for UK mobile networks only. £10 donation)*
By phone: 02035357955
By cheque: please make cheque's payable to Doctors of the World UK and send to: BMJ Appeal, Doctors of the World UK, One Canada Square, London, E14 5AA.
Richard James, who volunteers for Doctors of the World in Myanmar, reflects on the challenges of providing sustainable maternal and child healthcare in remote areas.
*You will be charged £10, plus one message at your standard network rate. A minimum of £9.94 depending on your service provider, will be received by Doctors of the World UK, Registered Charity No: 1067406. If you have any questions please call 020 7167 5789.