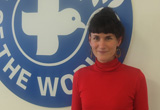 The BMJ has chosen Doctors of the World for this year's Christmas charity appeal. Karen van der Veken has worked for Doctors of the World as a midwife and project coordinator since 2006, working in many post disaster situations including in Pakistan, Haiti, and Darfur.
1) What health problems do people often suffer from after a major disaster?
If it's a natural disaster such as an earthquake or a flood, you'll need a lot of orthopaedic and surgical materials and services. If the disaster has created many refugees and there's no adequate shelter, then there's more risk of severe acute respiratory tract infections. If there is no access to safe water, then we'll have a lot of waterborne diseases with symptoms such as diarrhoea.
And it's often the same diseases that occur after major disasters. In Haiti, for example, there had been no cholera in the country for more than 100 years, but we still ordered emergency cholera kits as you must be prepared. And sure enough the cholera came.
We also don't forget about care for older people and people with chronic diseases in disaster situations. There are so many people suffering from cardiovascular diseases, diabetes, and so on, who can die from these diseases when they do not have access to their drugs. This can't just be ignored.
2) What are the first things that need to be addressed in emergency situations?
Shelter and access to drinking water are the first priorities. Then we can start adequately dealing with health issues. It's also important to make sure dead bodies are removed as they pose a risk.
3) How was it to arrive in Haiti after the earthquake?
We were quite early to arrive, and just like the Philippines it was a logistical challenge. We arrived there late at night and it was absolute chaos so we just had to hit the ground running. We linked up with a local NGO and asked: "Could you use a surgeon and an anaesthesiologist and a nurse?" And the answer was "Absolutely, here's the material, and you can make yourself an operation theatre in the room next door." There were already so many people waiting outside so we just got started.
We did one limb amputation after another on people who had been in collapsed buildings. In these situations, the pressure on the tissue causes necrosis, and so you have to act fast.
4) You must have seen and heard some tragic cases.
I always remember the first woman I lost in Darfur. She was pregnant and had eclampsia with severe convulsions. She was 15. I was waiting with her in the market for a mango and banana truck to come to smuggle her out of the rebel area to the first hospital. We didn't know if she would survive or if at the border the government soldiers would delay the process, or kidnap her husband and brother and charge them with being rebels. She could have been treated with magnesium sulphate, which we didn't have yet because our truck with medicines had been delayed, so there was nothing we could do. In the market she told me: "Stop massaging my back Karen, you'll be tired! You've been doing this for hours."
5) Do you have any positive stories from your time in the field?
Jawahir was a young woman in Darfur who had three children and came to work with us in the mobile clinic. She would register the names and villages of the women who came to the clinic, but not in English at first. After a week of working with us she spoke a little English. She was so interested in maternal health and began to accompany me more and more until her English really improved. She soon started translating the lessons I was giving to the official village midwives.
Eventually we got her signed up to an official training course in midwifery. The fact that we invested in the training of a person from the area who we knew would stay and work for the people is even more important than the people we have saved with our own medicines or our own hands.
6) It is estimated that there are tens of thousands of breast feeding and pregnant women affected by the Philippines typhoon right now. What are the main issues and challenges that these women are facing?
They of course need to have access to pre and post natal care, but they also need to have a safe, comfortable, environment for delivery. What's sometimes forgotten is that in areas where women don't usually deliver in a hospital, it's important you make the surroundings as home-like as possible.  You have to allow the family, the mother-in-law, and the sister, for example, to be there and to make it as cosy as the situation allows.
Besides feeling safe, the women of course should be delivering in a clean environment. In these contexts of displacement there will be mobile clinics that distribute hygiene kits for pregnant women and new mothers as well as bed nets, food, and lots of health education, for example, on the importance of washing hands regularly.
7) I imagine hygiene concerns are important in disaster situations generally?
Of course and much of this is related to logistics, for example, there should be sufficient space between shelters in the refugee camps, as well as access to water, and latrines. These measures will save the most lives.
Please support the BMJ Christmas Appeal for Doctors of the World by donating:
Online at: www.doctorsoftheworld.org.uk/BMJ
By text message: text DOCTOR to 70030 (for UK mobile networks only. £10 donation)*
By phone: 02035357955
By cheque: please make cheque's payable to Doctors of the World UK and send to: BMJ Appeal, Doctors of the World UK, One Canada Square, London, E14 5AA
*You will be charged £10, plus one message at your standard network rate. A minimum of £9.94 depending on your service provider, will be received by Doctors of the World UK, Registered Charity No: 1067406. If you have any questions please call 020 7167 5789.