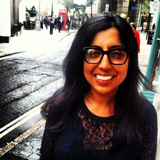 "I'm going to start a 'Hello. My name is…' campaign. Sent Chris home to design the logo… #hellomynameis"
Kate Granger sent that tweet on the 31 August 2013 during a hospital admission when she found that only a minority of the doctors and nurses she encountered during her stay would properly introduce themselves. It started a movement to encourage healthcare workers to introduce themselves to patients, which she wrote about in the BMJ, and now, less than three months after that first tweet, the #hellomynameis campaign has been highlighted in the UK government's official response to the Francis report as an illustration of compassionate care.
The response to Kate Granger's campaign has been remarkable from the outset. On her blog, healthcare staff of all stripes, from hospital chief executives to medical students, have pledged in their hundreds to introduce themselves to every patient they interact with. Wards up and down the country now have #hellomynameis boards, with the names and photos of staff working that day. And the hashtag itself is still going strong, with patients and professionals tweeting their experiences and continuing to spread the good word.
The mention in the government's report is a culmination of this ground swell, but just how did the idea take off so swiftly and capture people's imagination so powerfully?
Doctors who become patients are in a unique position to reflect on the experience of being on "the other side" in a way that is resonant and relatable for other healthcare workers, who perhaps will give more credence to the perspective of someone who could be their colleague as well as their patient. But as reflective and insightful as Kate Granger's writing is, and it really is, readers of her tweets and blogs connect not only to the message, but to the person and personal story behind the tweets. It's clear that she is an incredibly compassionate and considerate doctor, which makes her own experiences all the more jarring. When reading the tweets from her inpatient stay in August, I was aghast. Were we really failing to do something as simple as greeting and introducing ourselves to the people we are caring for? It was shocking, and judging by the replies on Twitter, many others felt the same and were jolted into action.
The beauty of the idea is its simplicity. Anyone can introduce themselves, and it doesn't cost a thing. It is a message that is easy to implement, improves communication, and is a gentle reminder that patients are at the heart of everything we do. In a time of increased pressure and low morale, it empowers healthcare workers to take some control for the patient experience, away from targets and box ticking. It empowers patients, too, to expect at least an introduction and hopefully a more level relationship all round. Better for patients and rewarding for staff: improving the patient experience makes everyone feel good.
The campaign also highlights the power of social media. The tweets struck a chord and were widely shared, the @GrangerKate follower count rapidly climbed, and the #hellomynameis campaign caught the attention of people who could influence change, be that a newly qualified doctor who now feels empowered to speak out when seeing senior members of their team failing to introduce themselves, or a receptionist in a GP surgery raising the importance of introductions at a practice meeting.
And maybe those tweets reached even "the great and the good" of the medical establishment, who just happened to be writing about putting patients first for the government's response to the Francis report.
Competing interests: I have read and understood the BMJ Group policy on declaration of interests and declare the following interests: none
Navjoyt Ladher is a clinical editor, BMJ.