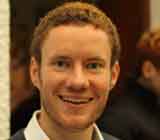 Several recent publications, including the BMA's Healthcare in a rural setting suggest that there is a shortage of doctors working in rural areas.
I first heard about the N10 rural track foundation programme from a registrar working in A&E when I was a student. He talked about the programme with such enthusiasm that I looked it up and was sold on it instantly. There is some thought that junior doctors, under pressure from the European Working Time Directive and with shorter attachments, have lost the sense of being part of a team. When choosing my foundation posts, a good general medical training was obviously an important factor, but I wanted to achieve this in an environment where I would be recognised and valued as a member of the team, rather than feeling like "just another number." A rural hospital sounded like it could provide this.
The programme
FY1 is spent in Raigmore hospital, a friendly 452 bed district general hospital in Inverness.  My year comprised general surgery, orthopaedics, general medicine, and cardiology, with exposure to acute care in all three jobs.
FY2 takes you to the west coast of Scotland, with one medical and one surgical rotation in either Oban or Fort William, then a choice between psychiatry or general practice.
What FY2 in a RGH entails
There are no middle grade doctors in these hospitals, which means you often find yourself acting-up and being given a huge amount of responsibility. Night shifts and weekend shifts are where I learnt the most. As the only doctor on site at these times, you are the first port of call for everything going on in the hospital and anyone who presents to A&E. This can be very daunting, but there is always a consultant at the end of the phone, and they will appear in a heartbeat if required. With the laboratory and radiology departments on call from home, you soon improve your decision-making skills with regards to which investigations are really necessary at 3am.
Wakeling found that in some posts, FY2s in the UK felt that they lacked responsibility and therefore failed to progress, whilst in other posts they felt out of their depth and unsupported. I think the N10 job has the perfect balance.
Team work
There is a sense that you are really valued, not only as part of the working team, but also as part of a friendly community. Living with the other junior doctors and socialising with the consultants provides great support and facilitates communication, which really helps when you phone them at 3am for some advice.
Teaching
There is always time for teaching—the consultants have a wealth of knowledge that they are more than willing to share and you often find yourself in off the cuff tutorials or case based discussions. The monthly FY2 teaching has included a PILS course, trauma teaching, and days with the mountain rescue team and the RNLI.  There is twice weekly voluntary morning tutorials from the consultants in Fort William and weekly peer teaching in Oban.
Workload and exposure
There are no "specialist wards" so all patients present to a general ward.  From here we can call specialists for advice if needed.  I have seen a huge variety of conditions including porphyrias and phaeochromocytomas. With regards to patient load, as you are often the only doctor in the hospital, all it takes is two or three acutely unwell patients to really test your ability to prioritise, as the minors build up in A&E and ward tasks accumulate. At these times, the consultants are ready to roll up their sleeves and help if needed.
There will undoubtedly be quiet days, and these are to be seized. These occasions can be used to do audits, research, help in clinics, or go to theatre, depending on where your interests lie. As there are no registrars to compete with, it's a great opportunity to do practical procedures. I have done central and arterial lines, chest drains, and spent time in the anaesthetic room.
Although major operations and specialist interventions don't happen every day in a RGH, you aren't without opportunity to see these in FY1 or during taster blocks in larger teaching hospitals.
The area
One reason people are drawn rural placements is because they enjoy the outdoors—the surrounding hills, lochs, and beaches and all of the opportunities that these invite outside the workplace. During the summer months, when your shift finishes at five o'clock you can be on the hills or speeding along a bike trail within minutes.  You're also not far from the bigger cities and I am yet to tire of the drive through Ranoch Moor to visit friends in Glasgow.
Would I recommend it?
Definitely. This has been a truly unique year and I have come away from the experience with more confidence and new skill sets, both inside and out of the hospital. I have been lucky enough to make many new friends and have also formed close links with the hospital staff, who still look out for you and lend a helping hand long after you have left.
Competing interests: I declare that that I have read and understood the BMJ Group policy on declaration of interests and I have no relevant interests to declare.
Keir Arran has recently finished the remote and rural foundation programme and is now undertaking a year working in a district general hospital in South Africa. Following this, he plans to return to the UK to pursue a career in anaesthetics and ICU.