When television channels started beaming images of the Uttarakhand flash floods the magnitude of nature took me by a surprise. Thousands were displaced, and infrastructure worth millions was damaged. The area was in ruins. As a doctor my predominant concern was for the health of the people in the area. Most of the villages in the region were completely cut off from the outside world. How were they managing? What about the risk of disease outbreak? I wondered was there anyone to detect it? Aside from the risks of a disease outbreak was there anyone there to provide even basic medical care? As these questions went through my mind, I discovered that "Doctors For You" (DFY), a humanitarian organization, was aiming to provide a medical response to the most inaccessible and affected areas of Uttarakhand.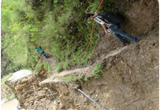 DFY, in collaboration with Caritas India and Karuna Sevak Sansthan, was providing medical services in the remote villages of Rudraprayag. I decided to volunteer and so did my sibling Anushree. Our team comprised of four social workers from an NGO in Delhi and two nuns from the church. We headed towards Rudraprayag, 200 kms from Kotdwar and quite deep into the flood ravaged crises zone. On the very first day of our visit, en route to Rampur, we came across a tree obstructing our way. On the next day, while we headed towards Tilwara, we found that the entire road had been washed away. The rain was still falling heavily, and the makeshift roads were steeper and narrower than the original roads. The mountainous terrains meant that there was a constant risk of falling down from the edge any moment. We  trekked around 5-6 kms everyday to reach the remote villages.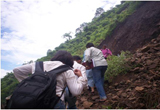 During our stay in Uttarakhand we set up health camps in Rampur, Tilwara, Sauri, and Ganganagar. The health camps sites were carefully chosen by the local volunteers and took place in areas around the market places which were easily accessible by everyone. Having locals from the area in our team was one of our greatest assets as they could translate the local dialects whenever we encountered problems taking a patient's history.
Contrary to what I expected most of the patients we saw had chronic ailments like backache, knee pain, gastritis, and hypertension. Minor injuries, myalgia with fever and itching all over the body including the eyes (probably viral), fungal skin infections, furunculosis, otitis media, and fever with huge tender cervical lymph nodes were also quite common.
At times we felt helpless about how to deal with the patients with a history of chronic illness complicated by the sudden cut-off of medical services due to the flood. Some needed hospitalisation, but how could we get them there?  Some patient's relatives repeatedly asked us to arrange for someway to get to a hospital. Giving them false hopes was useless. But then I had to do what I could with the resources immediately available and ask the relatives to trek their way to the hospital.
On the way back, it was raining heavily, getting darker, the river was angrier, and the makeshift roads were falling apart everywhere. I was genuinely scared. When I reached safety, first and foremost I was glad to be alive, but I was also pleased to have been able to help out those who needed me—as my profession demands.
Competing interests: "I declare that that I have read and understood the BMJ Group policy on declaration of interests and I have no relevant interests to declare."
Chandni Maheshwari is an anaesthetist in New Delhi, working as a senior resident.