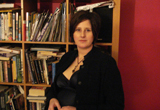 When buses in Glasgow started to come with posters asking if people were "Concerned about diabetes?" with an image of an older woman, a freephone number, and webpage for people "to find out about our health screening programme," I wondered what was going on. Another bus advert said, "Do you have asthma? Register for a complimentary health check today and you could be part of our research into the future of asthma."
A third advert depicted an x ray image of fingers crossed for luck, with the message: "1 in 2 women over 50 will break a bone due to osteoporosis . . .  find out about our free bone density scanning programme." By now I was irritated, because the adverts didn't say that evidence based risk assessment is freely available on the NHS; nor did two of the adverts make it plain that the purpose of the checks was to recruit people into clinical trials.
For all three adverts were placed on the Glasgow buses by UK clinical trial company Synexus, which has seven UK research centres, including one in Glasgow. I complained to the Advertising Standards Authority, and on 15 May, acting on mine and one other complaint, they ruled the adverts were "misleading" and must not appear again in their current form. (1)
Synexus describes itself as "the future of clinical trials" who use "an innovative model" that has "enabled it to become the only truly global company specialising in the recruitment of patients and running of trials for later stage clinical trials." The  company's website highlights its ability to recruit large numbers of patients into trials being run by various drug companies. One news article on its website says, "It took clinical trial experts Synexus just 10 months to carry out 52 000 DEXA scans and randomise over 2700 patients across twelve of their UK, European, and African dedicated research centres." (2)
However, this advertising had raised concerns with me. I'm not the only one. Stuart Ralston, lead clinician for the osteoporosis service in NHS Lothian, and recently confirmed as new chair of the Commission on Human Medicines, says, "Obviously it's fair enough that companies do clinical trials—that's how we get new drugs." But he is concerned that the adverts are misleading, "There's a hidden message, which is that they want to get people into trials." Many people responding to the adverts have been given bone scans—the results of which have been handed back to the NHS to deal with, whether or not the person goes on to give consent to be in the trial. In the UK, only people at risk of osteoporosis (such as those who have taken steroids or have a strong family history) are offered bone scanning. Ralston thinks this is the right approach. "Not infrequently you see younger women who have been scanned for one reason or another and have been told they have osteopenia. These women have a low risk of fracture and don't have anything to gain from being on anti-osteoporosis treatments."
Lester Firkins is a former banker who was awarded an OBE last year for his services to medical research, in particular his work with the James Lind Alliance, which aims to align clinical research with the priorities of patients and clinicians. Firkins, whose son Ellis died of variant Creutzfeldt-Jakob disease, is in no doubt that patients and clinicians can and must work together to decide on what research is most important, yet the adverts on the buses remind him of his previous work in banking. "Basically it's frightening people into doing something. It's just like banks saying 'come in for a financial health check' and then it's all about selling you payment protection insurance."
Simon Denegri, who is the chair of INVOLVE, a national advisory group that supports greater public involvement in research, and the National Institute of Health Research national director for public participation and engagement in research, also has concerns about the methods used by Synexus. "I'm all for raising awareness about research and opportunities for patients, but I would question the sort of tactics where this is being hidden behind an enticement or where they are gathering patient contact details via marketing surveys. Will patients really know what they are getting themselves into?" He also thinks that the fact that Synexus is a clinical trials company is not made clear enough."It's important that any potential participant asks questions and gets advice to help them see beyond the sales speak. Clinical trials are a vital part of medical research. By definition, a well run trial should be one where patients are very clear why they are there, what will happen, and their role before, during and after."
Before the Advertising Standards Authority ruling, Synexus told the BMJ that all its advertising is compliant with the ASA code and had also been cleared by a National Research Ethics Service committee. In response to my questions, it said that its "osteoporosis adverts on radio, direct mail, and leaflets in GP's surgeries were ethically approved by the NRES Committee in Brent, London." It said that it had "absolutely no doubt" that previous trials of PSA screening and prostatic biopsy had detected prostate cancer early, which "prevented many death(s)." The company believes that the public is increasingly interested in clinical trials and has sufficient access to information about its work online or through patient groups.
However, with  regard to the Glasgow bus adverts, the company failed in the ASA's words to: "make sufficiently clear that the advertisers ran and recruited participants for clinical trials and that the free screening offered was related to potential recruitment for a trial."  In Synexus's response to the complaints about the Glasgow bus advertisements, it told the ASA that patients had the health checks before clinical trials were discussed in detail. Two per cent of women who went for a bone scan in the Glasgow area went on to join the clinical trial, it said.
Synexus says that overall 90% of people are recruited for trials through their general practitioner, a service for which GPs are paid, and that the company would perform bone scanning only on women aged over 60 and not in the general population. Meantime, as the BMJ campaigns for better patient participation and empowerment—I wonder if advertising health tests direct to the public is ever going to be good for us.
Competing interests: I have read and understood the BMJ Group policy on declaration of interests and declare I was one of the people who submitted a complaint to the ASA about the adverts.
Provenance and peer review: Commissioned; not externally peer reviewed.
1) ASA adjudication on Synexus Clinical Research, 15 May 2013
www.asa.org.uk/Rulings/Adjudications/2013/5/Synexus-Clinical-Research-plc/SHP_ADJ_218666.aspx.
2) Synexus lead the way with 52,000 DEXA scans in 10 months. 2010.www.synexus.com/do/ecco/view_item?listid=52&listcatid=245&listitemid=851