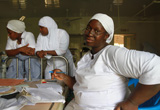 Bridget Ugorji is a midwife at Hadejia General Hospital in Jigawa Northern Nigeria. On International Women's Day, she shares her experiences of how the life saving skills training she received from Partnership for Transforming Health Systems is helping save the lives of women and newborns.
I am privileged to see a life join this earth every other day, although my heart breaks to watch mothers go through such agonising pain. I believe no woman should die while giving birth and this has been my driving motivation to save the lives of women and newborns in Hadejia community in Jigawa state, Northern Nigeria.
About 80% of maternal deaths are caused by severe bleeding (mostly bleeding after delivery), infections, hypertensive disorders in pregnancy, obstructed labour, and unsafe abortions. Most of these deaths are preventable and can be averted by equipping health workers with life saving skills.
Thanks to the advanced life saving skills training I received from a programme called Partnership from Transforming Health Systems Phase 2 (PATHS2), funded by the UK government, I am using my newly acquired skills to save women's lives.
The competency based, interactive Advanced Life Saving Skills (ALSS) training programme helped to build the skills set of midwives in critical areas of healthcare delivery—including supporting women during labour, and managing common problems during labour and delivery such as pre-eclampsia and eclampsia, haemorrhage, and effective resuscitation of newborns.
Despite my eight years' experience as a midwife I still discovered new ways to save the lives of women in labour using skills from the PATHS2 ALSS training. The ALSS training has been invaluable. It has made a great difference. Before I got this training, all I wanted was to see a baby breathe—but with this training, I was told how to do resuscitation following protocols step by step.
I resuscitated a newborn recently using what I learnt in the training and if I had used my previous method, the baby might not have survived. The baby's Apgar score (the assessment of the health of a newborn immediately after birth) was 2/10. Looking at the baby, some might say that the baby was not even alive, but with the ALSS training I was taught how to do resuscitation. I started resuscitation immediately and the baby was revived. I was the happiest person because I was able to save a life.
I'm so happy I am one of the beneficiaries of this training from PATHS2, because there are a lot of things that we've been doing wrong. In my facility, we didn't use to encourage support people for women in labour. We didn't allow any relatives to stay with a patient. But I learnt from the ALSS the importance of support people. Because of their involvement, patients are much happier to come to the hospital when in labour, as a relative is allowed to stay with them.
Also, I learnt from the ALSS training that skin-to-skin contact in the first few minutes after the baby is born is important to create a bond between mother and child. Now as soon as a baby is delivered and cleaned up I take the baby to the mother to have skin-to-skin contact. Before, I used to leave the newborns with assistants to take care of them.
News of the new skills acquired by midwives at ALSS trainings has spread around the community in Hadejia and the number of women attending the facility has risen steadily. We used to have 250 deliveries in a month, but after the ALSS training we now have a minimum of 350. At times we can have more than 15 deliveries a day.
Aside from the new skills, the renovation of the labour ward and supply of equipment and drugs from PATHS2 has also encouraged pregnant woman to feel happier using the hospital. Now there is a 24 hour water supply, no more smells in the labour ward, and our patients feel relaxed while waiting to deliver their babies.
I feel proud working as a midwife to save lives and to help reduce Nigeria's maternal mortality rate.
Bridget Ugorji is a midwife at Hadejia General Hospital, Jigawa, Nigeria.
Competing interests: None.