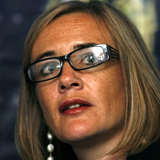 Tomorrow is World AIDS Day and this year all the talk is of tipping points and "ending AIDS." On both sides of the Atlantic lobby groups are calling on their governments to create blueprints to achieving an HIV free generation. So why, after 26 years of working in the sector, do these cries make me feel a little queasy?
The term "HIV free generation" (terminology I helped bring into force in 2005 when I was at DFID negotiating the G8 Communique on "universal access to HIV prevention, treatment, care and support by 2010") risks diminishing the centrality of people living with HIV.
"Ending AIDS" is heard by some activists living with HIV as a post-apocalyptic vision. Of course it is imperative to imagine a future where far fewer people acquire HIV, but we must hold that vision alongside the realities of hundreds of thousands of people living with HIV as long term survivors and having their rights and needs met.
Linking these calls to the 2015 Millennium Development Goals deadline carries a real risk that donors will take one look at AIDS programming requirements from 2016 on and simply declare "No need: AIDS is over." Even on the best estimates it can't be—not in terms of eliminating new HIV infections, and certainly not in terms of the life long needs of people who already have HIV.
"Ending AIDS" often gets tangled up with "magic bullet" thinking—a form of unrealistic reductionism equated with a simple call to take up the "new science" of HIV Treatment as Prevention (TasP). Of course getting more people onto treatment earlier is good for them and for society, but TasP alone does not deal with the day-to-day complexities of AIDS—the "soft" issues like fear, stigma, and violence.
Early on I became concerned at the lack of attention to the growing numbers of women becoming affected by AIDS. These were the early days (I started as a volunteer with the Terrence Higgins Trust in 1986). Back then we had no idea that AIDS would reach Africa in any meaningful way, and no one thought women with HIV would ever outnumber men.
When I published Vamps, Virgins and Victims: How Can Women Fight AIDS? the knowledge was simply not there about how women were being affected, and few people seemed to care or remember that women might have distinct needs.
Now the knowledge has changed, but I fear the response hasn't.
AIDS Strategy, Advocacy, and Policy (ASAP) recently undertook a review of the effectiveness and impact on the ground of the Global Fund's Gender Equality Strategy in nine countries. After months reviewing thousands of pages we found some jewels of good practice—nice work protecting vulnerable girls in Zambia for example—but hardly any programmes tackling violence against women or trying to confront the gender inequities that make women more vulnerable to HIV.
Overall we just couldn't find any evidence that the money was making a difference to women and girls. The main reason seemed to be that few, if any, of the programme leaders in country thought it mattered to check whether it did. This "gender blindness" repeats itself in most of the other documents, reports, and frameworks that we deal with on a daily basis.
For instance, the UNAIDS World AIDS Day Report proclaims that in 2011 new HIV infections dropped massively and deaths from AIDS are down to 1.7 million. Are these declines the same among women as men? I have no idea. The report's 100 pages fail to elaborate on gender differences.
There is a chapter on drug users, but it doesn't say if women who use drugs are at greater or less risk than male drug users. Why not?
UNAIDS mentions in passing that only 30 per cent of pregnant women living with HIV were taking antiretroviral therapy for their own health—far lower than the 54 per cent of all adults eligible (according to WHO) who are on antiretroviral therapy. This is worrying information, but there is no analysis, no information about what that means for survival. How many of those 1.7 million people who died are women?
We know that nearly all countries collect data that is disaggregated by age and sex—but it won't make it into any key reports unless someone asks and thinks it is important to know. And it is, especially if we really want to begin to imagine the end of AIDS together.
Robin Gorna is the director of AIDS Strategy, Advocacy, and Policy (ASAP), a consultancy of associates working globally to deliver a better response to AIDS, women's health, and global health more broadly.