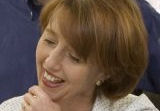 What was Ann McPherson's secret?  How did she manage to accomplish so much, but still remain a warm hearted person, who remembered birthdays, gave porridge to Jon Snow when he turned up for breakfast time meetings, and offered the keys of her house to friends needing somewhere to stay?
She was a GP in Oxford for 30 years, but also a tireless campaigner for several different causes, before dying from pancreatic cancer last year, at the age of 65. A few days before she died she won the BMJ Group Award for Health Communicator.  At the awards ceremony, the actor Hugh Grant, who, after persistent requests from Ann, had provided financial support for one of her causes,  described her as "part doctor, part campaigner and part stalker."
At a day to celebrate her achievements in Oxford this week, a group of friends, family, supporters, and medical luminaries heard about her numerous campaigns, most especially her initiatives to improve women's health; to communicate with teenagers and offer them better health services; to record the patient's voice; and to help terminally ill patients achieve a dignified death.
It was exhausting just to think about what she did, and it was reassuring when one of the speakers told us that she was fallible, and sometimes forgot that she was meant to be giving a talk somewhere, or collecting the children from school, or having people to supper. Hardly surprising, was my reaction.
As well as working both as a GP and a part-time lecturer in the Department of Primary Care at the University of Oxford, she managed to produce a best-selling book, called I was a Teenage Health Freak (with Aidan MacFarlane), which has sold more than a million copies and was translated into 38 languages. I am particularly grateful to Ann for the book because it taught my daughters all they needed to know about contraception, diet, acne, alcohol and drugs.
Her next big move was to co-found with Andrew Herxheimer, the DIPEx charity, which runs the website www.healthtalkonline.org and www.youthtalk.org. The charity works with an Oxford University research group which carries out qualitative research studies into people's experiences of health and illness, which are published both in academic journals and on the charity's website. The website, which has inspired similar ventures in seven or eight other countries, now has videos from patients talking about 70 different conditions.
Sue Ziebland, research director of the Health Experiences Research Group, said that when Ann and Andrew Herxheimer set up the database of patients' experiences (hence the name DIPEx), Ann's inspiration arose from her experiences with breast cancer in the 1980s. She wanted to hear from other patients.  She said that she had been given rather scanty advice, and a lot of it had been positive and over-optimistic, with doctors suggesting that she could have her chemotherapy in the morning and be back at work in the afternoon.  She found it a relief to discover that other patients, like her, had found chemotherapy exhausting, and not the minor inconvenience it had been painted.
Numerous speakers spoke of Ann's formidable powers of persuasion.  Everyone agreed it was impossible to say No to her requests. Jon Snow, (who is a patron of healthtalkonline) said that he always dreaded the words, which began: "I know I am always asking you to do things, but…." It inevitably preceded a request to do something that "you didn't have time to do, that you didn't necessarily want to do, but that you knew that you would end up doing."
Speakers, who described her as innovative, tough, warm, impossible, independent, intelligent, thoughtful, left me with the feeling that one of her secrets was that she never asked people to do favours for her personally, and that her causes were well thought out, evidence based and inspiring. Dr John Coleman, a clinical and developmental psychologist, pointed out that even today, after numerous initiatives on adolescent health, many GPs still provided no special services for teenagers, despite the fact that they are going through an important transition, when they are vulnerable and when they adopt health behaviours that may persist throughout their lives.
Clare Gerada, chair of the Royal College of General Practitioners, forced us all to think about how we could carry forward her legacy.  She made us sit in silence for a few minutes to think about it (though the silence was broken by the happy gurglings of one of Ann's six grandchildren).  You then had to tell the person next to you what you had decided. The woman next to me, who had helped develop a module for healthtalkonline, decided that she would make it her job to publicise the module, because not enough people knew about it.
Having heard from everyone about how good Ann was at picking up the phone and asking people to do things, I decided that my new resolution would be to do the same for the kidney transplant charity, with which I am involved. So anyone reading this is now forewarned.
Other speakers at the meeting included Dr Ruth Harris, professor of modern history at Oxford University and one of her patients; Dr Lisa Hinton, a senior qualitative researcher with the Health Experiences Research Group; Sir Iain Chalmers, founding director of the UK Cochrane Centre; and Joe Collier, emeritus professor of medicines policy at St George's Medical School, who together with Ann, set up Healthcare Professionals for Assisted Dying.
Iain Chalmers explained how Ann was as keen as he was on collecting the best possible evidence in all areas of medicine, and related how Ann had helped by reviewing journal articles in the area of obstetrics and gynaecology, when he was preparing his book, Effective Care in Pregnancy and Childbirth.
Ann was married to the epidemiologist Professor Klim McPherson, and had three children who all attended the conference, and six grandchildren.
Clare Gerada concluded the day by saying that she would forward Ann's legacy by trying to extend the average GP consultation time from 10 to 15 minutes, and by raising the issue of assisted dying again with the Royal College of GPs by the end of November.
She told the meeting: "If we are to keep the founding principles of the NHS alive, the patient's voice must be our guide."
Annabel Ferriman is news editor, BMJ.