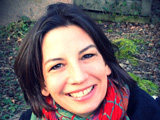 I spent last Wednesday afternoon with seven 3-4 year olds from Levenhall nursery in Musselburgh, East Lothian, just outside Edinburgh. They were taking part in an immersive theatre production by the children's theatre company Licketyspit. I have known the company's director, Virginia Radcliffe, for 18 years, since we met at a post natal group soon after our first children were born. Virginia had told me about her latest production—LicketyLeap—a few months earlier. She was thrilled to get funding for the show from the £6.8m pot that Inspiring Scotland has set aside for its Early Years Early Action programme for 2012 and she is delivering the show to 800 nursery school children in north Edinburgh, East Lothian, and Drumchapel, Glasgow. It was when I asked Virginia for more details about the show that my ears really pricked up. Everything she told me resonated with the health inequalities agenda championed by Michael Marmot. His report in 2010 (BMJ 2010;340;c818)  highlighted how focusing on early child development can help to reduce health inequalities by empowering children, building their confidence and social and coping skills, and reducing challenging behaviour to help them progress at school and make their way through modern life.
According to the "Growing up in Scotland" study—which since 2005 has been tracking the experiences of 8,000 families—children whose parents have no higher educational qualifications arrive at school lagging far behind those whose parents have been to university: 18 months behind in vocabulary, and 13 months in problem solving ability.
Inspiring Scotland knows this. It says that for every £1 spent on early years intervention the tax payer saves £9 in the future.
Along with the unique play experience that LicketyLeap gives children, what Inspiring Scotland particularly liked about the production is its wider reach into the community. There is a training module for teachers and a follow up session for parents a week after the show where they discuss their children's responses to LicketyLeap and how they can make the show into a lasting experience. Another important factor for the funders was that there was evidence of LicketyLeap's impact. Follow up with teachers found that 85% (50 out of 59) of children who took part in the show demonstrated increased confidence during the show with 78% maintaining this a week later. Social skills also improved for 77% (45 out of 59) as did problem solving ability (80%), and emotional literacy (89%).
And that's how after a 5am start to get to Edinburgh in time, I found myself cross legged on a mat with Leah, Rory, Jason, Finn, Anna, Kyle, Bella, and their teachers Anne and Emma. After a welcome and explanation of what theatre is, we were introduced to the show's characters, both called Margaret—one brave and one worried. Apart from Rory the children were very quiet to start with. But the actors Sarah and Hannah drew them into the show with questions about themselves and the two Margarets.
At first worried Margaret turns down all brave Margaret's offers of adventure, but when she sees a picture of a mountain she imagines that when she gets to the summit she will find her heart's desire. Together we set off on the journey to see if she does. We head through a bog, past the Oogly Boogly Lady (a magical character who only speaks "Oogly" and creates mini-worlds which the children explore with mini-wooden-selves she has given them), splash and swim in the sea, fish for our tea, sit in a cave, stroke a bear, and eventually reach the top of the mountain with the help of a friendly bird. The set is simple: a piece of heavy cloth with holes and fur and satin blue material attached that is adapted for the different locations. Back on the mat the children say goodbye to the two Margarets and a red heart shaped balloon rises above them with puppet Margarets inside, off on another adventure.
I was surprised at how well the children listen and respond to the Margarets. The show lasts 90 minutes. But their attention rarely lapses and although these children are among the youngest at the nursery they get it. Only a couple of them are brave enough to shout out their names in the cave to hear the echo, but all of them want to leap onto the mountainside when the time comes. Even Jason, probably the quietest in the group, decides he can do this bit by himself and declines the offer of a helping hand.
I know they get it because of the drawings they produce after snacks. We have the Margarets with happy and worried faces, caves, rainbows, bears, and a big heart from Rory. Bella tells me as she leaves that she wants to save her name tag to show her big sister and I wonder whether they will find a blanket and hide in a cave or fish for their tea when she gets home. Rory, who was desperate to take home the shiny red balloon, says he has not found his heart's desire yet, but he thinks he will do soon, maybe in the playground.
I leave feeling inspired.
The names of the children have been changed.
Zosia Kmietowicz is a freelance journalist