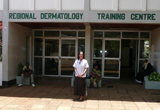 You probably have not heard about the Tanzanian health strike, which has had a major impact on healthcare in the country recently. The strike, as far as I could gather was about pay. It seems that the new interns had not been paid for their first 3 months work and the government were also wishing to reduce the payments for on-calls, which as you can imagine was most unpopular. When I talked to one of our Tanzanian residents it seemed that the doctors wanted a 150% pay rise! With the advent of modern technology the strike was orchestrated by mobile phones and the doctors were informed whether they should attend work or not by text message. We found it quite confusing at the Regional Dermatology Training Centre (RDTC) as all the residents turned up for the 8am teaching lecture and then many disappeared before clinic or the ward round! After a week many of the nurses joined the strike as well.
Fortunately, at the Kilimanjaro Christian Medical Centre (KCMC), where the RDTC is situated, patient care was not too compromised due to the many East African and foreign doctors working here. However, at other hospitals such as in Dar Es Salaam it was impossible for people to access medical care.
Into the middle of this chaos many challenging dermatology inpatients were admitted. The ward resident was Tanzanian and therefore on strike, so Kelvin (another ward resident) stepped into the brink. I have now renamed Kelvin the "blistering King" as since being ward resident we have had up to 18 inpatients, many of these with widespread blistering disorders.
A 44 year old prisoner was admitted to the ward with blistering of his face, upper trunk, and lips.  He had recently been diagnosed HIV positive and begun on anti-retroviral drugs including Nevirapine 22 days previously.  He initially was diagnosed with Stevens-Johnson syndrome (SJS), a severe drug rash involving less than 10% of the total body surface area, probably caused by the Nevaripine. Overnight the blistering extended and the next day we found him looking dreadful chained to a camp bed in the middle of the ward. We diagnosed that the drug rash had extended (involving more than 30% of the body surface area) and he now had toxic epidermal necrolysis (TEN), a dermatological life-threatening emergency, and yes we do have serious emergencies in dermatology! The prognosis of TEN relates to the degree of epidermal involvement and there is a high mortality rate of 30-50%. The photo below shows him when we had diagnosed TEN.
We had many challenges to overcome in his care but fortunately after a lengthy consultation we were able to move him to the intensive care unit. In TEN necrosis of the lower half of the epidermis causes the skin to slide off in sheets.  It often affects the mucosa, making swallowing difficult and ocular involvement can lead to long-term visual impairment. TEN is more commonly seen in HIV infection and Nivaripine is a high risk drug associated with SJS-TEN.  Other drugs frequently associated are aromatic anticonvulsants, sulfonamide antibiotics, and allopurinol.  We immediately stopped the Nivaripine and tried to optimise his wound care as infection is common and often the cause of death.  Studies have suggested that treatment with high dose IV immunoglobulin improves survival but obviously this was not available in Moshi. Historically steroids have been associated with increased mortality but IV hydrocortisone was the only available treatment so he was begun on this 8 hourly. He was given IV fluids and nursed carefully with the first 48 hours being critical. Bullae were aspirated to prevent extension of the skin loss and we involved the opthalmologists. To our relief the blistering settled and there was no new skin loss. Interestingly recent studies are suggesting that high-dose steroid before extensive epidermal loss may be helpful which is our experience at the RDTC.
We even managed to explain to the prison guards that he would be unable to make a dash for it from ITU in his state and they removed the ankle cuff until he was back on the medical ward!
Patient consent was obtained.
Susannah Baron is a consultant dermatologist.