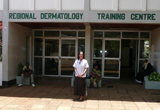 I have to admit that after working for the NHS for 19 years I felt the need for a different challenge. I was four years into my appointment as a consultant dermatologist in East Kent, and although I enjoyed the clinical work, I was finding the fluctuations in health service politics somewhat exhausting. My sons, Zac and Josh, aged 7 and 6, were very happy in our local village school, and my husband Aaron was planning his PhD.
Being diplomatic I offered my husband a choice: should we have another baby, or should we go and work in Africa? He decided on Africa immediately, and I now sit at my desk writing with a magnificent view of Kilimanjaro, the temperature steady at 40 degrees celsius. Fortunately my hospital trust was supportive and allowed me a six month unpaid sabbatical. The British Association of Dermatology kindly awarded me some financial support with a fellowship, and a year later we were all on a plane to Kilimanjaro with Zac asking, "Will there be Lego in Africa, Mummy?"
I have had a love of Africa since I spent my medical student elective working in Swaziland. I had heard about the Regional Dermatology Training Centre (RDTC) in Moshi, Tanzania, as it is unique in being the only available dermatology training centre in East Africa.  It was established in 1992, with international support, and at the time there were fewer than 150 dermatologists/healthcare workers trained in dermatology in sub-Saharan Africa (excluding S Africa). There is a huge burden of skin disease in Africa. Many patients have common conditions, such as atopic dermatitis, psoriasis, and acne. These conditions become extreme in a high number of HIV positive patients, who also present with skin diseases of immunosuppression such as Kaposi's sarcoma, lymphoma, and extensive viral warts.
The RDTC is situated within the grounds of the Kilimanjaro Christian Medical Centre (KCMC) and has fantastic facilities with 10 clinic rooms, an HIV test counselling room, two theatres, a pharmacy, a compounding centre for making the topical medicaments, radiotherapy and phototherapy facilities, a lecture theatre, three seminar rooms and a fabulous library. In fact the facilities are far better than those in most dermatology departments in the UK. One half of the corridor benefits from enough light to see the patients' skin, but on the opposite side, owing to electrical issues, we resort to looking at skin with mobile phone lights and the torch I have now learnt to bring with me. Outpatient dermatology clinics are run on a Monday (general and HIV), Wednesday (general), and Friday (paediatrics), and patients arrive at around 8 am. They then sit and sit without complaining, and after our 8 am morning meeting we take tea (very British). It seems to take two hours for the nurses to bring the patient's notes from the records, so we rarely begin before 10 am. I have tried to establish why it takes two hours, but apparently it just does and no one seems the least bit perturbed by this delay. It used to cost 5000 TZ shillings (£2) to open a notes file, but in January the price was raised to 20 000 TZ shillings (£8), which is prohibitively expensive for many patients. Inpatients pay 2500 TZ shillings (£1) per day for their stay, which includes food.
At the RDTC we train medical officers from East Africa who have already completed a two year medical officer training programme. They are then enrolled on our two year advanced diploma in dermatology and venereology. To date 217 medical officers from 16 African countries have graduated from the RDTC. There is also a four year dermatology residents' programme, equivalent to the specialty registrar training programme in the UK, and our residents again come from all over East Africa. In addition we have 20 fourth year medical students for a four week block, split between the ward and the outpatient clinics. During clinic days some rooms have five people in them and others one, and it seems that the larger the group of students the lower the interest in learning dermatology. Teaching dermatology to students with such wide ranging abilities is good fun but quite a challenge. In addition to teaching in clinics and on the wards, I write and give lectures to the ADDV students, dermatology residents, and medical students.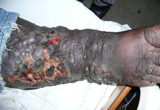 Presently we have 18 inpatients on the medical, surgical, and paediatric wards.  We have extremely challenging cases, and unfortunately many are HIV positive patients with extensive epidemic Kaposi's sarcoma, often secondarily infected and offensive smelling, which results in both functional and social difficulties. There is also non-HIV associated endemic Kaposi's sarcoma, and both the epidemic and endemic forms can affect children (photo shows infected epidemic Kaposi's sarcoma). Anti retroviral treatment and investigations are free in Tanzania, but sadly patients often present very late because of the stigma sero-positivity still has.
Patient consent was obtained. Thank you to the patients and to the RDTC for giving their permission to reproduce the photos.