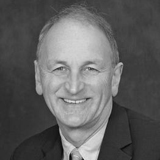 Today, The King's Fund launches a new commission on leadership and management in the NHS.
The NHS is a complex organisation employing more than 1 million people and spending more than £100 billion. It is a system that requires sound management – rather than traditional administration – and leadership at every level.
Over the next few years, the NHS will confront the most significant financial challenge in its history – finding £14 billion in productivity gains to maintain quality and avoid cutting services. At the same time, it will need to implement the most ambitious package of reforms proposed since it was established. This will need a change management programme on a scale never seen before in any health system in the world. Meeting these challenges will require strong leadership and management at all levels.
The importance of management in public services was articulated by Lord Tugendhat, Chairman of the Imperial College Healthcare NHS Trust and a member of the commission, in a debate in the House of Lords in June: "Ministers are the generals who issue the orders. The managers in the public sector are the troops who will have to carry through the fighting."
Managers may be the troops, but they have had very few people defending them recently, despite Lord Howe, who at an event at The King's Fund in September, said "let us not forget the managers, who tend to get a rather unkind press at times, but not from my direction."
This is the background against which we are launching the commission. I am delighted that leading figures from inside and outside the NHS have agreed to join me to evaluate the current state of leadership and management in the NHS and make recommendations about the capabilities it will need in the future.
In doing so, the commission will draw on experience from outside the NHS and from health systems in other countries. We will consider a range of evidence, including an analysis of trends in management and the role of leaders (clinical as well as managerial) in improving performance at all levels. We are also inviting submissions from individuals and organisations who would like to offer their views, and would welcome examples of good practice.
It will not be a lengthy inquiry – the issues are too urgent for that – and it
will report in spring 2011. I hope our work will facilitate a more informed debate about leadership and management in the NHS – a debate I hope you will join.
Chris Ham is the chief executive of the King's Fund.
This blog also appears on the King's Fund website at http://www.kingsfund.org.uk/blog/
Read the related BMJ news story: Experts to scrutinise quality of clinical managers needed for new NHS