23 Oct, 14 | by Bob Phillips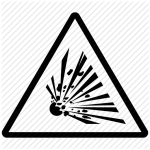 Well, I thought that was a better title than 'Volatility' which, to be fair, is closer to what this meandering post is all about.
When we're struggling our way through medicine, we have to face all sorts of uncertainties. Some of these are the frank face of ignorance (we just don't know something), some of them are about the degree of chance that plays into our knowledge, some around the edges where we decide which side of an imaginary line things play, and on top of all these, we have situations where Stuff Changes. Not that we don't currently know where things are going to end up – for example, that we don't have the diagnosis yet because we haven't worked it out – but that it actually alters as we go through time.