Vaida Liutkutė
Health research institute
Lithuanian University of Health Sciences
(Note: this is an edited version of an article published in the January 2016 edition of News Analysis). 
The FCTC took effect in Lithuania on 16 March 2005, making it among the earliest countries to be subject to its legal obligations. Despite this, violations of Articles 5.3 and 13 continue to occur. Under an agreement signed in late 2014 with the Interior Ministry, Philip Morris Baltic (PMB) contributes 104,000 EUR to the police department. Part of the donation is allocated to support police officers with a good track record against illegal tobacco, while the remaining portion is used to support police commissariats in different regions of Lithuania.
One of the most successful police officers has already received a cash bonus of 10 000 EUR based on the agreement. Commemorating the day of Criminal Police (October 27th) another 10 officers also received bonuses. The parties also agreed to actively cooperate in this field by exchanging information, developing common prevention projects and criminal offences detection. To assist with these aims, the State Border Guard Service received a donation from PMB of 9 Land Rovers and more than 300 pieces of different equipment, including reconnaissance equipment. Alberto Bernardi, director general of PMB tells he is proud to help governmental institutions to fight illegal tobacco market.
In the very same week The United Nations public health agency in charge of tobacco control has warned EU policymakers to keep their distance from industry as they consider reforms to fight cigarette smuggling. Given Philip Morris International's extensively documented history of involvement in smuggling, such blatant violations of FCTC Article 5.3 appear particularly absurd.
PMB also sponsors a social project called Lietuva be šešėlio (Lithuania without a shadow) which encourages the public to use an interactive map to report places where tobacco, alcohol or fuel are being illegally sold. According to project coordinators, more than 500 illegal places were closed based on reports lodged with this interactive tool. Project Lietuva be šešėlio is also actively developing information campaigns related to smuggled cigarettes, together with support from the Lithuanian government, State Border Guard Service, Police Department, Customs of the Republic of Lithuania, State Tax Inspectorate, Ministry of Finance of the Republic of Lithuania. The latest social information campaign is Nusikaltimai vyksta ne pakelyje (Crimes do not happen in packages).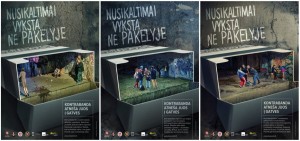 The donation to the police service follows an agreement signed on June 25th 2014 between the State Tax Inspectorate under the Lithuanian Ministry of Finance and the Digital Coding and Tracking Association (Codentify), established by British American Tobacco, Imperial Tobacco Group, Japan Tobacco International and Philip Morris International. The agreement raises serious concerns about the independence and integrity of Lithuania's measures to tackle illicit tobacco.
In addition to the clear failure of the Lithuanian government to implement comprehensive measures to protect policy from the tobacco industry, Lithuanian youth continue to be exposed to tobacco industry advertising, in contravention of FCTC Article 13.
Despite widespread complaints from the public health community, PMB supports various science projects for students. Activities have included industry financing of student internship projects, while the latest PMB-sponsored project is Mokslo pieva (Science meadow), involving three main universities and other science institutions.
According to the Law on Tobacco Control, industry is prohibited from sponsoring events designed for persons under 18 years of age as well as radio and television programmes and also events and activities involving, or taking place in, several countries or otherwise having cross-border effects. Sponsorship of events such as these generates exposure which acts as surrogate advertising, both to young adults and their peers under the age of 18, and helps to create an impression of a legitimate and respected industry.
(Visited 222 times, 1 visits today)