Photos and report credit: European Commission (http://www.exsmokers.eu/)
World No Tobacco Day in Romania highlighted the European Commission's 'Ex-smokers are unstoppable' campaign. A media roundtable was held, where two doctors discussed the benefits of smoking cessation. Two ex-smokers also shared their personal stories of quitting smoking. The event was attended by numerous media representatives, and obtained massive print, online, radio and TV coverage in Romania.
The event drew on the findings of a study conducted through the 'ex-smokers are unstoppable' campaign. Professor Doctor Florin Mihaltan, President of the Romanian Lung Society and one of the doctors who spoke at the roundtable, said: "The European Commission's Ex-Smokers are Unstoppable campaign, through which this study was conducted, shifts the main focus from the dangers of smoking to the benefits of smoking cessation. These numbers illustrate the realities of life as a smoker, as well as an increase in people's desire to quit."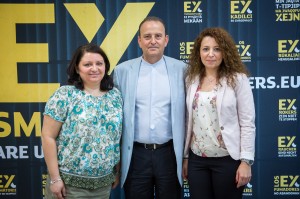 Professor Dr Florin Mihaltan (centre) with ex-smokers Cristina Matei (l) and Iulia Pop (r)
"
The majority of smokers who took part in the survey say that they smoke between 70 and 140 cigarettes per week (10-20 cigarettes per day), a figure which applies to 32.4% of Romanian smokers. Over half of Romanian smokers (56.3%) say that they want to quit their habit within a year. 80% of Romanians believe that willpower is the key to quitting while 43% identify motivation as the most important factor.
About 28% of Romanian smokers find it difficult to resist the urge to smoke when they are enjoying tea or coffee. 27% have a hard time socialising with other smokers when trying to quit, while 22% are most tempted by the "morning cigarette". When asked how they would feel if they never smoked again, 42% of Romanians said that they would feel proud. Another 42% believe they would feel healthier and more in control of their health.  Over half of the 1,000 people questioned in Romania believe that smoking gets in the way of certain activities and 20% of respondents believe that smoking affects sporting performance. Half of smokers even avoid flying because of their habit.
Doctor Ioana Munteanu, President of the Tobacco Section of the Romanian Lung Society, who also spoke at the roundtable, said "Where the process of quitting smoking is concerned, it is very important for us to be aware of both the internal and the external factors which facilitate it. It is very interesting to see that a very large proportion of the respondents believe that the secret of quitting resides within themselves. Motivation plays a very important role, and identifying its sources represents the key to success when going through a nicotine withdrawal episode."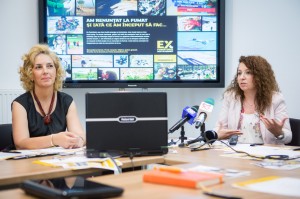 Dr Ioana Munteanu (l) and ex-smoker Iulia Pop.
The European Commission's "Ex-Smokers are Unstoppable" campaign inspires smokers to kick the habit by celebrating the achievements of ex-smokers from all over Europe. It offers people free help to stop smoking through iCoach, a free online stop-smoking tool based on extensive scientific research and clinical experience of psychologists and communication experts. Since the launch of the programme in June 2011, a total of 380,819 Europeans have registered to iCoach 22,325 of whom are Romanians. Romania ranks 4th among EU countries for total iCoach registrations. The self-reported quit rate for people signing up to iCoach is 40%. This is the proportion of people who classed themselves as a non-smoker after 3 months on the programme.
(Visited 589 times, 1 visits today)