Blog by Emma Eleonorasdotter, Rui Liu and Susanne Lundin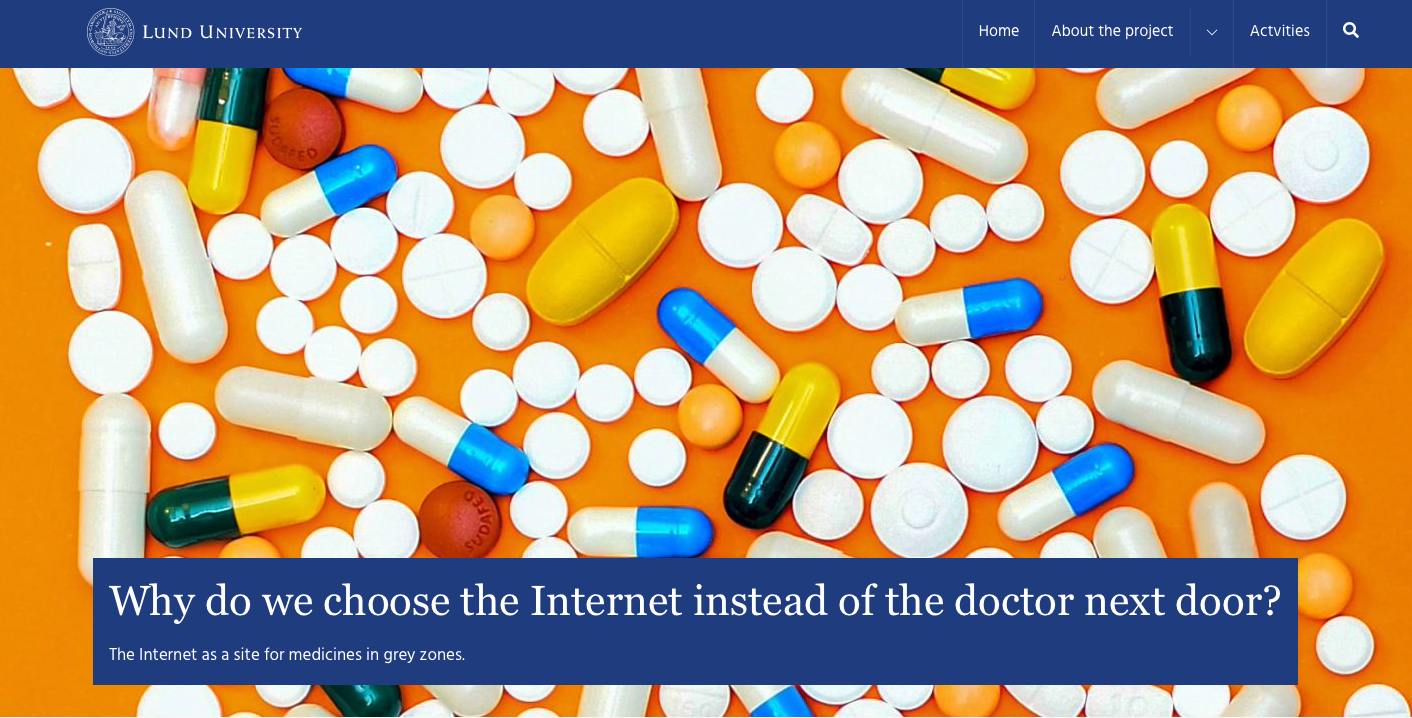 The global consumption of medicines has been rising and shows no signs of decreasing.1 In 2021, 13 percent of Swedish women and 7 percent of Swedish men took antidepressants, and 26 percent of both men and women were prescribed anti-hypertensives.2 While over-reliance on medicines in care provision and self-care has been widely and critically discussed in and beyond academia, especially in regards to women's medical consumption,3 less attention has been paid to how care seekers navigate the medical supply side of healthcare as well as the moral choices they face when examining their options. Alongside advances in medical technologies, the Internet penetrates into all levels of everyday life in Sweden. Under such circumstances, Swedish residents, as elsewhere, are exposed to a global medical market, which turns the search for medicines and health information into an activity that demands knowledge and critical thinking.4
In this blog post, we present the findings from our ongoing project "Why Do We Choose the Internet Instead of the Doctor Next Door? The Internet as a Site for Medicines in Grey Zones," which investigates how care seekers in Sweden navigate increasingly digitalized medical markets. Some of the key questions we asked research participants about their medicine access include:
What is your view on medical authorities and formal healthcare?
How do you search for health information?
What would you do if you suffered from an illness and neither treatments nor medicines were available in your country?
We first collected empirical materials through a survey of Swedish residents about their access to medicine. Then we identified behavioural patterns, which we used to design semi-structured interviews. The findings presented here are from the interviews.
Moralities on a Floating Ground
A prominent theme is that interviewees navigating in the medical market are guided by moral principles on a floating ground, sometimes aligning and sometimes deviating from the image of "rational" patients endorsed by health policies. One interviewee discussed her winding search on the Internet for expensive medicines not available in the Swedish market in order to improve her children's severe lung condition. As a person with financial resources, she expressed uneasiness in taking advantage of her privildged position to access foreign medicines. At the same time, she justified her purchases as a mother: "If it didn't work out, I think I would have left the country and moved somewhere else with my children to get their medication." The clash between the moral expectations on mothers to protect their children and the expectations on citizens in general to abide by the law makes it apparent that moralities are not fixed but achieved through negotiating different rationalities.
Another interviewee is a doctor with several years of experience injecting transgender people with imported testosterone obtained without prescriptions. She stated she is strict with prescribing medicines in general; however, she does not regard gender transgression as a disease nor hormonal treatment as a cure. In her view, the assessments by healthcare staff in gender-confirming processes are "humiliating and sickly-making." Hence, for her patients to stay well—not sickly-made—she is left with no choice but to obtain hormones through "dodgy pharmacies" on the internet, despite potential medical risks. On the other hand, she insisted that other medical conditions must follow legal regulations. Her narrative shows how moral decisions regarding medication access hinge on context-dependent perceptions and definitions of health and sickness. To alleviate symptoms and to avoid feeling diminished or stigmatized in medical consultations, Swedish people's navigation of the medical marketplace relies heavily on shifting moralities to decide where and how to access medicines.
A third example comes from an interviewee who regularly travels abroad for blood tests and medications. These services and medicines are available in Sweden, but the interviewee stated she feels discontented with the continuous work needed to access them through the Swedish health care system. She has therefore decided to search for medicines elsewhere and to self-medicate. However, she stated that e-doctors are not a morally acceptable choice for her, despite being widely marketed and highly accessible in Sweden: "I think such private services consume time and resources from the welfare system instead of making it sustainable. I do not want to worsen the Swedish health care." For her, as for the other interviewees, navigating the medical market involves negotiating conflicting moralities.
The Internet Enables Critical Thinking about Medicine
Many of our interviewees deemed the Internet as their main source of health information. For them, hours of scrolling between webpages to filter seemingly reliable sources (and thereby composing fragmented medical information into a relatively coherent knowledge framework) appear preferable to simply following professional advice. The material collected so far shows us that research participants are reflexive, careful, and critical about information and products available both online and offline.
Situated moralities have been identified in our previous studies and literature on the impact of biotechnologies on people's medicine consumption, and we have found this theme in our project.5 Additionally, our research shows that digital medicine consumption draws attention to the increasingly time-consuming process of searching on the Internet to make crucial health care decisions. In a digitalized medical market, opportunities afforded by the Internet conjure up new outlooks on what is considered moral and legal. The Internet thus enables conflicting interpretations of what people have to do to simultaneously achieve health and fulfill different expectations imposed by society.
References
[1] OECD iLibrary, "Health at a Glance 2021: OECD Indicators," OECD Publishing, https://doi.org/10.1787/ae3016b9-en.
[2] Socialstyrelsen (2022). Statistik om läkemedel 2021. Sveriges officiella statistik.
[3] Sergio Sismondo, "Pharmaceutical Industry: Political Economies of Drugs and Knowledge," in International Encyclopaedia of the Social & Behavioral Sciences, 2nd edition, ed. James D. Wright (Amsterdam: Elsevier, 2015) 6-10; Emma Eleonorasdotter, Women's Drug Use in Everyday Life (London: Palgrave, forthcoming).
[4] Rui Liu and Susanne Lundin, "Medicines in The Grey Markets: A Sociocultural Analysis of Individual Agency, in Movement of knowledge: Introducing a Medical Humanities Perspective on Medicine, Science and Experience, eds. Kristofer Hansson and Rachel Irwin (Lund: Nordic Academic Press, 2020) 233-57; Marcus Giesler and Ela Veresiu, "Creating the Responsible Consumer: Moralistic Governance Regimes and Consumer Subjectivity," Journal of Consumer Research 41, no. 3 (October 2014): 840-57.
[5] Rui Liu, "Tinkered care: Assembling Medicine Consumption in Grey Zones," (PhD diss., Lund University, 2023); Lisa Sugiura, Respectable Deviance and Purchasing Medicine Online: Opportunities and Risks for Consumers, 1st edition (Springer International Publishing, 2018), https://doi.org/10.1007/978-3-319-74485-8; Susanne Lundin, "'I Want a Baby; Don't Stop Me from Being a Mother': An Ethnographic Study on Fertility Tourism and Egg Trade," Cultural Politics 8, no. 2 (2012): 327-44; Susanne Lundin, Eva Torkelson and Marsanna Petersen, "'With This Disease, You Take Whatever Chances There Are'—A Study on Socio-Cultural and Psychological Aspects of Experiments Regarding Huntington's Disease," Open Journal of Medical Psychology 5, no. 4 (October 2016): 72, http://dx.doi.org/10.4236/ojmp.2016.54009.
Emma Eleonorasdotter holds a Phd in ethnology and is a senior lecturer and researcher at the Department of Arts and Cultural sciences at Lund University, Sweden. Her research revolves around cultural perspectives on inequalities, specifically regarding licit and illicit drug consumption.
Rui Liu holds a PhD in service studies and is a researcher at the Department of Arts and Cultural Sciences at Lund University, Sweden. Her research interests lie in medicine consumption, provision of formal and informal health services, and formation of pharmaceutical markets.
Susanne Lundin is a professor in ethnology at the Department of Arts and Cultural Sciences, Lund University, Sweden. Her research includes social and cultural aspects on health and medical technologies with a focus on moral and legal grey areas. She is the principal investigator for the interdisciplinary project Why do we choose the Internet instead of the doctor next door? The Internet as a site for medicines in grey zones.
(Visited 129 times, 1 visits today)