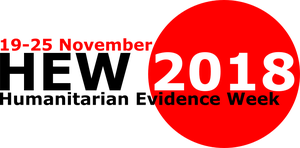 Today's promoted HEW posts feature work on focusing relief efforts around need, and for assessment and research in the face of humanitarian crises. Learn more about Evidence Aid and Humanitarian Aid Week here.
Webinar: Evidence reviews and field data collection to strengthen disaster preparedness and response at the Red Cross.
This webinar will run from 12 noon GMT (1pm Brussels time) and is presented by Kimberly Dockx, CEBaP researcher part of the Belgian Red Cross Flanders team. Kimberly will speak on using systematic reviews to identify evidence gaps in the humanitarian aid sector, as way to prioritize primary field studies. Participants can register here.
Blog: Real-world evidence: from health to humanitarian assistance
Written by Chris Winchester, Oxford PharmaGenesis.
First paragraph: Alleviating human suffering and saving lives is the goal of both medicine and humanitarian aid. The father of medicine, Hippocrates, first expressed the idea that medicine should be based on scientific observation and reason in ancient Greek times. Yet it was more than two millennia later, in 1992, that the formalized concept of evidence-based medicine emerged to reshape healthcare. However, reaching an evidence-based decision in medicine may not be straightforward when confronted by rapidly changing and highly complex situations with multiple ethical, emotional, political, financial and operational considerations. The same issues can clearly be seen in humanitarian aid. [READ MORE]
Blog: Faster experimentation
Written by Tom Wein, Independent Consultant.
Experiments are powerful – but field randomized trials, or RCTs, can be expensive. From survey experiments to work in the lab, there are other ways of gathering causal evidence. Good evidence delivers better programming. Often, to get the best evidence, we turn to experimentation. There has been an explosion in the number of field trials for international development in recent years. In humanitarian work, to give just a couple of examples, World Vision and IRC are both running major experimental trials around their cash programming. [READ MORE]
Evidence checker tool
By Prisca Benelli and Etisham Ul Hassan
First paragraph: Even though the breadth and quality of evidence on interventions in humanitarian crises is limited, as has been shown by, for instance, Blanchet et al, 2017 for health and Williamson et al, 2017 for child protection, there is a growing recognition of the need for evidence-based interventions to help improve the effectiveness and efficiency of humanitarian responses. [READ MORE]
(Visited 99 times, 1 visits today)