The current issue of Medical Humanities is guest-edited by Luna Dolezal and Barry Lyons and focuses on 'Shame, Stigma and Medicine'.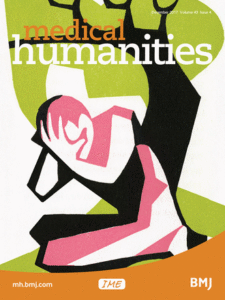 Daniel S. Goldberg's article, 'Pain, objectivity and history: understanding pain stigma,' is our editor's choice in this issue, and so is free for everyone to access. In the article, Goldberg argues that sufferers of chronic pain in the UK and the US are faced with stigma from the medical profession and from society at large, and that to understand (and combat) this stigma it is necessary to view it in the context of the history of pain and its subjectivity. Goldberg uses railway spine as a means of investigating pain, objectivity and stigma; railway spine was a condition suffered by people who had been involved in railway collisions, a common occurrence in 19th-century society. The disease was characterised by pain that could not be localised in any clear physical injury, leading railway companies faced with paying damages and medical professionals faced with uncertainty in their diagnoses to doubt the experiences of the sufferers and to accuse them of malingering. Here you can listen to Daniel S. Goldberg as he discusses his paper.
Read the article here in the Medical Humanities journal.
Daniel S. Goldberg is Associate Professor at the Centre for Bioethics and Humanities at the University of Colorado Anschutz Medical Campus.
(Visited 872 times, 1 visits today)