United by film in United Arab Emirates
An overview of Dubai International Film Festival (DIFF), 7-14th December 2016, https://dubaifilmfest.com/en/page/223/diff16.html
Dr Khalid Ali, Screening room editor
Cinema can be a contemporary mirror of our society as film-makers tell their stories reflecting on universal political, social, and economic challenges. Health and well-being were prominent themes in the panorama of world cinema in Dubai International Film Festival (DIFF) 2016 which screened 156 films from 57 countries.
For a geriatrician, I was immediately drawn to films which explored the world of old people amongst their families and carers in their colourful but harsh realities; '104 wrinkles' (Lebanon, 2016, Hady Zaccak) is a sensitive documentary where the director Zaccak follows his grandmother Henriette for 26 years, observing her physical and cognitive decline, but also celebrating the bonds of love and filial duty in caring for her. 'We are just fine like this' (Tunisia, 2016, Mehdi M. Barsaoui) is a playful short film about an old man struggling with the advance of dementia, and his grandson's mischief. Two elderly women facing cruel nature, climate change and a dwindling economy trying to earn a living by collecting honey was the subject of 'Honey, rain and dust' (United Arab Emirates, 2016, Nujoom Alghanem).
Mental health featured highly in DIFF and the awards category: 'Mamsous- Deranged' (United Arab Emirates, Kingdom of Saudi Arabia, 2016, Shatha Masoud) followed three patients struggling with anxiety, depression, side effects of medications, and the stigma of mental illness. In view of its authentic portrayal of real patients and imaginative narrative style, the film was awarded the best short film award. 'Like crazy' (Italy, France, 2016, Paolo Virzi) is an elegantly told humorous road journey, Thelma and Louise style, of two female patients running away from a mental institution. Auditory hallucinations, bereavement, loss and friendship of two mentally ill men seeking cure in another road journey formed the background story of 'Ali, the goat and Ibrahim' (Egypt, UAE, France, and Qatar, 2016, Sherif El Bendary) which earned its leading character Ali (Ali Sobhi) the best actor award. Domestic violence and long-lasting psychological trauma experienced by children were sensitively handled in 'Animal- Hayawan' (UAE, 2016, Nayla Al Khaja).
The year 2016 was notable for films made by women exploring women's issues worldwide; DIFF was no exception in focussing on the feminine agenda; 'Miss Sloane' the opening night film (USA, 2016, John Madden) had 'Jessica Chastain' as the determined woman of the title lobbying for strict laws on gun acquisition in the USA. Two more American films delved into women's psyche; 'Certain women' (USA, 2016, Kelly Reichardt), and '20th century women' (USA, 2016, Mike Mills).  Similarly Arab cinema shone a spotlight on women's trials and tribulations in a male-dominated world: 'A day for women' (Egypt, 2016, Kamla Abu Zekry) followed a group of ladies who come together in a public swimming pool one day a week dedicated to women only, and 'One week, two days' (Egypt, Sudan, 2016, Marwa Zein) which dissected the problem of primary infertility.
The global threat of rising extremism was analysed in 'Mawlana- The preacher' (Egypt, 2016, Magdy Ahmed Ali), and 'Layla M' (Netherlands, Belgium, Germany and Jordan, 2016, Mikje De Jong).
Tolerance, empathy, and understanding different cultures in a global dimension were discussed in 'Foreign body' (France, Tunisia, 2016, Raja Amari), 'Zainab hates the snow' (Tunisia, France, Qatar, Lebanon and UAE, 2016, Kouther Ben Hania), 'Solitaire- Mahbas' (Jordan, Lebanon and Egypt, 2016, Sophie Boutros), 'The choice' (UAE, 2016, Eman Alsayed), and 'Lisa' (UAE, 2016, Ahmed Zain).
The festival audience award went to 'Heartstrings' (France, 2016, Michel Boujenah) which told the story of a 12 year old girl losing her eyesight to progressive macular degeneration and how her passion for music, and empathy and compassion from a school friend restored her well-being.
Lenny Abrahamson (Oscar nominated director, https://en.wikipedia.org/wiki/Lenny_Abrahamson ) in conversation with William Mullally gave a moving account of his approach to marginalised characters in society, and the importance of empathy, listening and understanding in storytelling.
Over the course of 2017, I will be sharing with the 'Screening room' readers, and 'Medical Humanities online podcast' listeners' DIFF film reviews, and interviews with Hady Zaccak (director of 104 wrinkles), and Ahmed Magdy (actor in 'Ali, the goat and Ibrahim' and 'Mawlana- The preacher'), and highlights from Lenny Abrahamson's conversation. In a new section 'Talk to her', I will be posting discussions with emerging women directors from the Arab world: Shatha Masoud (director of 'Mamsous- Deranged', Nayla Al Khaja (director of 'Animal- Hayawan'), and Marwa Zein (director of 'One week, two days').
Brecht once said 'Art is not a mirror with which to reflect reality, but a hammer with which to shape it'. The same notion applies to film as a force for education and change.
Wishing you all a very happy New Year.
Address for correspondence: Khalid.ali@bsuh.nhs.uk
Hady Zaccak – director of '104 wrinkles' – talks to Khalid Ali
Masoud Amralla Al Ali (artistic director of DIFF) with Khalid Ali – opening night of DIFF
Lenny Abrahamson talks to William Mullally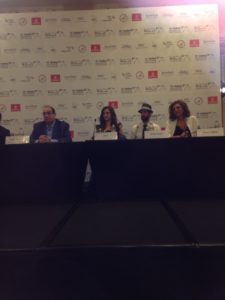 Madgy Ahmed Ali, Dora, Ahmed Madgy and Reham Haggag – film director and cast of 'Mawlana: The Preacher' 
(Visited 419 times, 1 visits today)