Changing Lanes: Art in long term conditions in the digital age – new ways to adapt
By Shanali Perera
Rheumatic and musculoskeletal diseases are the largest growing burden of long term disability in the UK, affecting over 10 million adults. The concept of empowering patients to better engage with self-management of their long-term conditions is changing the world at an ever-increasing pace. Incorporating creativity can enhance interpersonal well-being.
Through my artwork, I aim to reflect my personal experience to raise awareness on 'Creative empowerment – exploring the healing power of art'. Personal insights as a medic and a patient into integrating creativity, healing & health on the use of creative expression as a tool to face some of the physical limitations & challenges imposed by chronic illnesses. I am keen to tell others of my experiences as they may benefit from incorporating art or similar creative expressions into their own healing. Why not challenge illness dominance? I do so by using digital art.
I am currently a patient under the care of Rheumatology services at the Manchester Royal Infirmary, treated for vasculitis. I used digital applications for artwork to cope with pain, illness experience, adjust to living with vasculitis; to communicate with health providers, family and friends. Prior to ill health retirement, I was a Rheumatology specialist trainee and this journey has indeed been a transformative experience both personally and professionally.
Copyright © 2016 Shanali Perera
Eight years of numerous A&E and hospital admissions, multiple consultations from various disciplines have given me some valuable insights into a patient's journey. Chronic diseases can turn one's life upside down, gradually changing the landscape of daily living. Art can be a refuge for coping with the dynamic shifts in daily routine – accepting role limitations, altering perceptions and regaining some level of control. Creativity gives something to take control of and construct a positive identity. I like to highlight the potential benefits I felt by facilitating self-expression through creativity. Art was a tool for positive reinforcement and reflective thinking for me. I found expression through Art not only represents symbolic aspects of coping but also demonstrates the many facets of emotions and degrees of pain I feel at various points, as a visual narrative. This form of non-verbal communication is effective in helping family, friends and health team gain new insights into often under estimated, emotional/spiritual elements factored into the illness experience. Seeing beyond the illness – creative expression helping to redefine self-identity. I managed to achieve a semblance of normality by starting to set more realistic goals and standards for me around my limitations. From my experience, adapting to find ways around limitations plays a key role in rebuilding confidence and progressing forward. I feel that accepting the shift in roles, reshaping and reinventing one's self is an essential part to living with a long-term illness.
People with certain disorders not only have to deal with the general disability of the chronic illness, but also the physical limitation of expressing the "art" that is in their mind. On repeated use my hands become numb and painful, pain radiating to my shoulders. I found the use of digital medium my adaptation as it enabled me to use light touch with minimal effort and alternate hands. Less pain and fatigue became apparent in my hands and arms compared to using a paintbrush on canvas or charcoal on paper. For me, artistic expression was a means of self-exploration to convey how I was feeling. This really helped me to keep the fun side alive and regain a degree of control. This newfound freedom to explore myself through the world of colours and inner creative space, gave rise to my present work.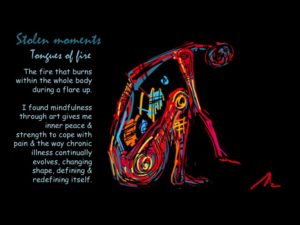 Copyright © 2016 Shanali Perera
Copyright © 2016 Shanali Perera
I think art certainly can be used to explore and represent one's individual journey -The way chronic illnesses are constantly changing shape, defining and re-defining itself. I feel that this aspect to self-care isn't advocated to its full potential in people with long-term physical illnesses. There is a lot of scope to develop this further as a holistic approach to care given the wealth of studies illustrating the beneficial effects of integrating creativity and healing in long-term conditions. Present day represents the Digital age where Digital technology in healthcare is continually changing the world at anever-increasing pace. The use of digital medium/applications for creativity, especially for people with limited functional capacity/pain can be a constructive as well as an enjoyable pursuit to explore one's creative side to cope with day-to-day struggles. Why not put this into wider use in the context of self-management of chronic illness? Let's take a closer look at our creative space.
Be Visible! Be Heard! See yourself through art.
Correspondence to:
shanaliperera@gmail.com
(Visited 1,171 times, 1 visits today)