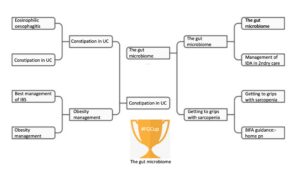 As January marks the entrance of the 'big teams' into the FA Cup, this year we welcomed the 'big eight' editor's choice papers from the past year at Frontline Gastroenterology to compete in the inaugural #FGCup on Twitter. With potential banana skins left right and centre, the form book went out the window as the readership determined who would be our first champion.
The first round was full of hotly contested fixtures; there were no David's in this selection of Goliaths! Team #Eosinophilicoesophagitis took an early lead against team #ConstipationinUC but a late comeback saw team #ConstipationinUC progress to the next round. Elsewhere, team #BestmanagementofIBS lost to #Obesitymanagement ending the potential for Alex Ford achieving a BMJ group double (Gut author of the year and #FGCup). The match-up of the round was undoubtedly the meeting of team #Gutmicrobiome and team #IDAin2ndrycare in a battle of science and GIFs – eventually team #Gutmicrobiome took the win. We concluded with team #G2Gwithsarcopenia easing through with a comprehensive win against #BIFAguidanceonhomepn.
The semi-finals saw a step-up in the competition. Teams #Obesitymanagement and #G2Gwithsarcopenia battled valiantly against teams #ConstipationinUC and #Gutmicrobiome but were unable to prevail. A well fought play-off led to team #Obesitymanagement taking the bronze position. As teams #ConstipationinUC and #Gutmicrobiome stepped out on the hallowed Twitter turf, there were clear early nerves from both sides. Anton Emmanuel demonstrated moments of magic with his excellent Tweetorial but, buoyed by their large fan base, team #Gutmicrobiome took the win. Whilst they are our champions, all of the papers are winners and you can read them by clicking the links below. Continue sending us your best stuff and maybe next year you will be in with a chance of winning the #FGCup.
Links to papers
(Visited 292 times, 1 visits today)