A 62 year old man with well controlled type 2 diabetes presented with abdominal symptoms, significant weight loss and night blindness. He was vitamin A deficient, had marked peripheral oedema and a serum albumin of 12g/l, requiring TPN.
Stool culture and testing for HIV and TB were negative. Immunoglobulin levels were normal.
Computed tomography showed mesenteric inflammatory fat stranding and enlarged lymph nodes (Figure 1). Colonoscopy was unremarkable.
Histology revealed inflamed and ulcerated small bowel mucosa with plump endothelial cells. (Figure 2) There were no granulomata.
Enteroscopy showed granular oedematous mucosa and deep ulcerations. (Figure 3).
What is the differential diagnosis?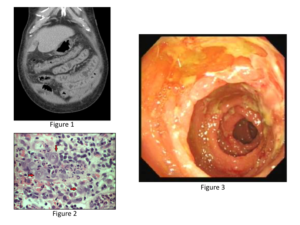 Gavin Stead
(Visited 759 times, 1 visits today)