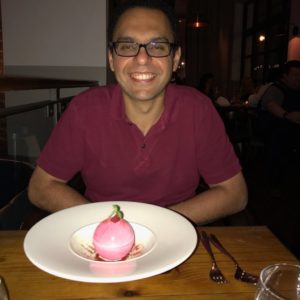 Date: Monday 9th October
Time: 8-9pm GMT
Guest: Dr Ahmed Elsharkawy @aelsharkawy75
Dr Ahmed Elsharkawy was appointed as a Consultant Hepatologist in March 2012. He qualified from Southampton in 1999 before doing his core medical training in Nottingham followed by registrar training on both the Wessex and Northern Deanery schemes. His PhD was in the pathogenesis of the liver inflammation-fibrosis-cancer axis. His clinical interests include all aspects of hepatology, liver transplantation and how to improve management of patients pre and post-transplant. He leads on live related liver donation in Birmingham. He is particularly interested in the potential role of nutritional interventions in patients with liver disease. He also has an interest in acute and acute-on-chronic liver failure. He is principal investigator on a couple of trials of liver assist devices in the ACLF setting. He also has a major interest in viral hepatitis and management of this outside traditional settings. He is currently the Chairman of the British Viral Hepatitis Group and has co-edited the BTS Guidelines on the management of Hepatitis B and Hepatitis E.
(Visited 387 times, 1 visits today)