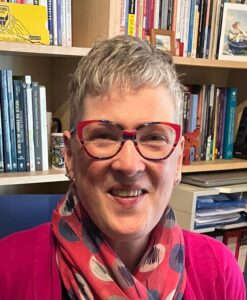 This week's blog is written by our Editor-in-Chief, Dr Alison Twycross (@alitwy), Honorary Associate Professor, School of Nursing and Midwifery, University of Birmingham (@UniBham_Nursing).
The focus of International Nurses Day 2023 is Our Nurses, Our Future. At a time when the nursing workforce is under more pressure than ever before Evidence Based Nursing (EBN) are focusing on what needs to be done to support our nursing workforce to thrive. We support nurses right to strike and the need for better pay and conditions but we also want to reflect on what can be done to help our nurses flourish. Alongside this blog we have made three commentaries free to access to mark International Nurses Day 2023. Visit our website by clicking here for more information.
Looking after our nurses is particularly important at a time when the NHS workforce is in crisis with vacancies at around 157,000 in England alone and predicted to increase exponentially over time (see: https://www.theguardian.com/society/2023/mar/26/nhs-england-staff-shortages-could-exceed-570000-by-2036-study-finds).
We know the transition from student nurse to registered nurse is hard and that a significant proportion of new registrants leave the profession in the first two years. In this commentary  the experiences of new graduates are discussed. Reflecting on these results will enable us to better support our new graduates as they transition to their role as a registrant. An EBN blog earlier this year discussed the role of academic staff in preparing students for their first role as staff nurses. As a former Head of Department and Deputy Dean in a School of Health and Social Care I am aware of the need for clinical areas and universities to work together to support our new nurses over what has been described as a flaky bridge (Health Education England 2018). There are examples of good practice. For example an EBN blog outlines a project to support early career professionals to thrive, not just survive.
One of the EBN commentaries we have made free to access explores how good nursing teamwork reduces fatigue but cannot offset the strain of excessive workloads. This is perhaps not surprising given what the Royal College of Nursing and other unions have been saying about current workloads for nurses (and other healthcare professionals).
If we want to retain nurses, then Governments, their associated agencies, and departments need as a matter of urgency to put properly resourced plans in place to support workplace retention and address the workforce crisis. It is not enough to simply to issue statements such as:
 "We are driving forward progress to recruit more staff into the NHS to help treat patients more quickly, with more than 4,800 doctors and almost 10,900 more nurses compared to a year ago." (DHSC response to a recent article in the Guardian)
I am sick and tired of hearing the same old rhetoric – I expect you are too.
Nor is it OK to come up with solutions to deal with the NHS backlog without considering staffing issues. Introducing a new phone system for GP surgeries or diagnostic hubs in shopping centres all ignore the main issue that we do NOT have enough staff in the NHS. When will the long awaited NHS workforce plan be published by NHS England? What are the Governments in the other UK countries doing about this? I'm not holding my breath, but it needs to be SOON.
Lots has been written about strategies for retaining nurses in the workforce but little action has been taken by Governments. In this EBN blog strategies for retaining experienced nurses are discussed. In another blog ways of supporting older nurses to remain in the workforce are discussed. We know what we need to do. The time for action is NOW. The recent strikes by NHS staff across the UK are indicative of the strength of feeling in the workforce about their pay and working conditions but we also need to listen to what they are saying about staffing levels. A recent survey carried out by the Nursing Times suggests nurses fear another North Staffordshire-like NHS scandal.
Many nurses are currently at breaking point. More needs to be done to support nurses' wellbeing in the workplace. This is particularly important with more and more staff reporting mental health issues and burnout. The third commentary we have made free to access highlights some of the issues impacting on nurses' mental health including: poor sleep quality; lower social support; certain personality traits and workplace bullying. You might anticipate that in a caring profession things like this wouldn't happen but we know they do. I suspect current workload pressures are only making things worse.
If we care about our future nurses more needs to be done to improve their working conditions and the world-wide nursing workforce crisis. Government's around the world need to invest in the nursing and healthcare workforce rather than continually cutting back services and staffing budgets resulting in ever increasing workplace pressures. No more rhetoric…. Action is needed now.
(Visited 244 times, 1 visits today)