Hemali Bedi
I was very pleased to attend the 3rd Qualitative Health Research Symposium that was held in London, UK, on Tuesday 7th February 2017. Hosted by the UCL Qualitative Health Research Network, the focus of the symposium was enhancing engagement, co-production and collaborative meaning-making in qualitative health research. Abstracts from the symposium will be published by BMJ Open in early March.
After opening remarks from the UCL President & Provost Professor, Michael Arthur, this year's symposium began with a number of insightful presentations that explored interdisciplinary collaboration within qualitative research. Case studies were presented by researchers from all over the world, including Argentina, Denmark and Tanzania.
Following this, a number of breakout sessions focused on new developments in qualitative research, such as the use of novel visual methods to support participant engagement, multi-sectoral collaborations in research on human-environmental health and the changing nature of healthcare organisations and how we study them.
The potential benefits of using novel visual methods to support participant engagement in qualitative research
One of the many highlights of the day was the keynote address from Professor Jonathon Tritter. He spoke about the various tensions, challenges and opportunities of patient and public involvement in qualitative research. Professor Tritter highlighted the significant differences between patient and public involvement and concluded that collaboration should be based on the recognition of these differences.
Professor Jonathan Tritter's concluding thoughts: Who should be involved in research and what gets in the way?
Next, the poster presentations were delivered. There were a great number of interesting and thought provoking posters on display throughout the symposium. The key research themes were: culture, creativity and innovation in research, health services and systems, making research accessible to marginalised and vulnerable groups and theorising and reflecting on collaboration. Roman Kislov and Fiona Fox were voted the winners for their research titled "Enabling collaborative health research: a qualitative longitudinal study of a large-scale co-production programme" and "Insiders and Outsiders: the experience of co-researchers exploring autism in a Somali community" respectively.
The afternoon session further reaffirmed the need for interdisciplinary research teams to consist of both qualitative and quantitative researchers, as well as other health care professionals, stakeholders and policy makers. The audience was captivated by the panel discussion which followed.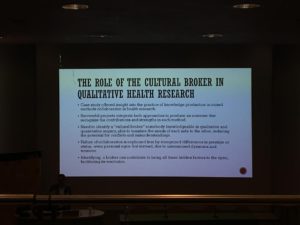 Roberto Abadie spoke about the role of the broker in mixed-methods collaboration
We would like to thank all of the speakers and participants for sharing their insights and we look forward to attending the next symposium.
(Visited 929 times, 1 visits today)