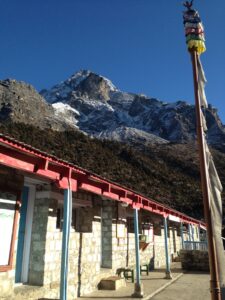 Nepal reported its first case of covid-19 in January 2020 and experienced a surge of cases in the capital and urban cities in the months that followed. The Government of Nepal enforced a nationwide five-month lockdown from March-July 2020 along with cancellation of all domestic and international flights. Soon enough, the virus spread to rural and remote areas. The Khumbu region, in northern Nepal, eventually confirmed its first case of covid-19 case in October 2020 in a resident older Sherpa of Namche Bazar (3440m).  
The Khumbu region lies in the remote northern part of Solukhumbu district and is home to the mountains of Nepal including Mount Everest. Air travel is the only means of transportation for the approximately 9000 residents. Khumbu's healthcare system, like most rural communities, relies on under-equipped facilities which can be easily overwhelmed in the event of an outbreak. The Kunde Hospital (3800m) is a 15 bedded hospital built by Edmund Hillary in 1966 which has been providing basic health services for residents and tourists for over 50 years. Due to geographical restrictions, patients are carried to the hospital on the back of a person or makeshift stretcher through steep mountain trails which can take up to eight hours from the farthest village. Scarce medical resources including health personnel and test kits can hinder the assessment and control of an outbreak. 
Moreover, a lack of intensive care units, ventilators, and protective equipment at the facility affects the ability to care for patients who require hospitalisations due to covid-19. These patients need to be evacuated to Kathmandu for further treatment which can easily cost a fortune.  
The health authorities of Nepal responded to covid-19 by sending testing kits to Khumbu after confirmation of the first case. Though the WHO recommends testing as the key to containing the covid-19 outbreak, testing capacity was limited owing to the small number of PCR kits that were received. Many residents live in small households, and those who tested positive could not safely quarantine without putting their families at risk. Due to the lack of PCR test kits, it is difficult to ascertain the number of active cases in the community. 
Travel restrictions were eased following the first lockdown, which to led hundreds of  trekkers and  mountaineers gathering at the Everest base camp for this years' spring expedition. Unfortunately, more than 30 climbers recently tested positive for covid-19. This news has been alarming for local communities, with many assuming that Khumbu is now on a verge of outbreak. While it is too risky to wait and see, there has been no official statement to halt the expedition. 
Meanwhile, amid the recent rise in cases in the whole of Nepal, the government has called for yet another lockdown in the capital with strict measures to contain the virus. While authorities may be able to effectively impose such regulations in the cities, it can be difficult to do the same in rural communities like Khumbu. The distance separating remote towns from the cities gives some people a false sense of reassurance. Customs such as sharing communal dining rooms can easily place the residents and tourists at risk. Limited resources can hamper sanitation. Despite these challenges, efforts have been made to contain the spread of covid-19 in Khumbu. Awareness campaigns have been conducted by local groups to educate villagers about the virus, mask wearing, sanitization and the importance of social distancing. Local volunteers from several villages have been provided with pulse oximeters and thermometers to allow patient monitoring without overwhelming hospitals.  
So far, the Khumbu region has reported fewer cases of covid-19 compared to other regions of Nepal. However, the recent outbreak at the base camp calls for immediate action. Testing on a massive scale should be the first priority which will allow early identification of infected cases and prevention of community transmission. Moreover, the government must be prepared for prompt aeromedical evacuation if needed. Mountaineering and climbing are the primary source of income of the Sherpas of Khumbu. The resumption of the climbing season brought substantial relief among the local population, as difficult it is to imagine, rural villages like Khumbu might not escape the wrath of covid-19 pandemic after all. Crucial measures need to be implemented immediately to prevent the catastrophic spread of covid-19 while its prevalence is still low in the Khumbu  region.  
Sherpa Mingma, University of Tsukuba Graduate School of Medicine
Shrestha Raksha, University of Tsukuba Graduate School of Medicine, Department of Hematology
Competing interests: none declared
References: 
Guan W-J, Ni Z-Y, Hu Y, Liang W-H, Ou C-Q, He J-X, et al. Clinical Characteristics of  Coronavirus Disease 2019 in China. N Engl J Med. Massachusetts Medical Society; 2020  Apr 30;382(18):1708–20.  

Bastola A, Sah R, Rodriguez-Morales AJ, Lal BK, Jha R, Ojha HC, et al. The first 2019  novel coronavirus case in Nepal. Lancet Infect Dis. 2020 Mar;20(3):279–80.  

Sah R, Sigdel S, Ozaki A, Kotera Y, Bhandari D, Regmi P, et al. Impact of COVID-19 on  Tourism in Nepal. J Travel Med. 2020 Jul 7;4:177.  

High times at Kunde Hospital, Nepal. https://doiorg/101017/S1481803500008691. 2007 Jul  7;:1–5. 
Kunde Hospital located at 3800 meters. (Photo credit: Mingma Sherpa)