Around four out of ten pregnant women in the UK give birth in the operating theatre. Few are prepared for delivery in this forbidding, high tech environment and the experience can be traumatic. Emma Evans, consultant anaesthetist, and Monika Kupper, member of the St George's Hospital Maternity Voices Partnership, describe "New Beginnings," a co-designed initiative to humanise obstetric care in operating theatres.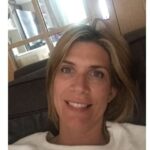 Emma Evans: consultant anaesthetist 
Repeated conversations with women who described being fearful about being disconnected from their anticipated birth plan, and facing delivery in an operating theatre environment with (perceived) rigid staff hierarchies, raised my awareness of how stressful this is for some patients. It prompted me to think about ways to improve the environment informed by the experience of women and staff with knowledge of maternity care in this setting.
In preparation, I attended a course on experience based co-design (EBCD) run by The Point of Care Foundation (PoCF), founded by Glenn Roberts, creator of the EBCD toolkit. It was an eye opener into how patient stories can change the perspective of clinical staff, reignite passion for their work, and motivate them to make sensible patient centred changes.
It was clear that a formal initiative needed an inter-professional working group. I therefore approached colleagues with experience of implementing quality improvement initiatives, and members of the theatre staff, and used various informal and formal staff forums to invite discussion. I also worked with our Maternity Voices Partnership (MVP) to get patient input. 
The initiative was launched in February 2018 and ran formally until September 2019. We broadly followed the EBCD toolkit. Funding was obtained for an introduction to EBCD methodology and mentoring by PoCF trainers. Discussions and one to one interviews with 27 medical, nursing, and midwifery colleagues and 15 patients were conducted in varied locations including offices, theatres, coffee rooms and homes, and then thematically analysed to inform joint events where key co-design themes were identified Once changes had been agreed on, sign off was obtained from the Trust Executive team. 
Light bulb moments 
Practical sessions putting staff in women's shoes by lying on operating tables or being positioned in stirrups, enabled them to see their daily working environment through patients eyes, and see their professional role in a different light. This motivated them to engage in change. Pairing peer staff interviewees also reduced anxiety around expressing opinions and showing filmed patient interviews to clinical staff during quiet shifts broadened staff engagement. 
NHS Horizons "School for Change" programme, proved a lever for change too. The school offers anyone who works in healthcare, at whatever level, clinical or non-clinical, the opportunity to take their desire to see change happen and make it a reality. The programme's emphasis on behaviours and moving forward despite uncertainty really enabled me to see how the iterative process and failing fast was a strength. 
Monika Kupper: patient advocate and co-chair of the Maternity Voices Partnership
A Maternity Voices Partnership (MVP) is an NHS working group of women, birthing people and their families, commissioners, and maternity service staff collaborating to review and develop local maternity care. It is led by an independent lay chair to ensure service users are well represented.
I have been involved with the MVP since the birth of my second daughter and I was keen to support Emma as I knew from experience how daunting theatre birth can be and that nothing would change unless we worked on this together. 
I am a documentary film maker and my main role in "New Beginnings" was to advise on how to edit the filmed interviews. Transcription of films and subsequent editing is labour intensive (and consumed much of the projects grant money) but eye witness accounts, and people's stories, which can be emotive and almost overwhelming to watch, are a good way to change hearts and minds. We agreed it was important to showcase how some women are emotionally scarred" by their experience. 
One mentioned the humiliation of walking half dressed into the operating room and then being asked to take off her pants in front of everyone and having to hand them to her husband. "What little dignity I had left, went out the window,' she said. 'My husband had post traumatic stress disorder as a result of this experience and couldn't watch anything to do with hospitals on TV for months afterwards." 
Watching these interviews made it evident how small inexpensive changes to the environment could make a huge difference
Challenges
Data protection (GDPR) regulations restrictions precluded using a patient database so we had to recruit our patient participants via clinics and social media sites. As a result we were not able to get a truly representational input from the full spectrum of our ethnically diverse patient population. The social networks that the MVP use are mainly self selecting by geography and language. In future projects the midwifery teams who have the most contact with parents should be actively involved in recruitment.
Key changes instigated:
Improving antenatal information about operative birth
Created website pages describing the facts about operative birth rationale, process, and recovery

Women now routinely directed to c-section information video antenatally for a "virtual tour" of the theatre environment; translations created by multi-cultural staff to support diverse ethnic groups of mothers

Emphasis in antenatal classes now reflects 4/10 women needing peri-partum theatre episode

Positive images of theatre birth displayed along maternity corridors to reduce stigma associated with operative birth described by participants 

"Virtual" class on theatre birth and anaesthesia being trialled within antenatal class programme
Making care more person centred
Installed a welcome board outside theatre for families

Purchased "My Name Is.." badges for staff to improve introductions

WHO surgical safety checklist team member introductions include parents

Reduced barriers to skin to skin by adjusting ECG placement, tying gowns differently and moving blood pressure cuff to leg

Routinely offer music, gender reveal, drape drop for birth; previously bespoke requests

Purchased speakers and ipad for music requests

Introduced water until women leave the ward and reduced fasting time ahead of caesarean section from 4h to 1.5h (average)

Introduced disposable underwear for patient walk from 4th floor ward to 1st floor operating theatre—previously not worn
Learning by doing 
Creating website content and leaflets was easy but influencing behaviours across a large staff group, particularly in relation to fasting policy, has—unsurprisingly—been harder and lengthier. Despite being endorsed formally, staff and patients remained cautious about pre-anaesthesia fasting risks and so iterations including changing language cues from "sips til sending" to "just drink" and sharing safety data have helped. Repeated iterations also enabled us to "fail fast" with some initial ideas including creating a theatre certificate incorporating staff names and a Polaroid photo of the family; the practicalities were overwhelming. 
Evaluation/impact of the New Beginnings initiative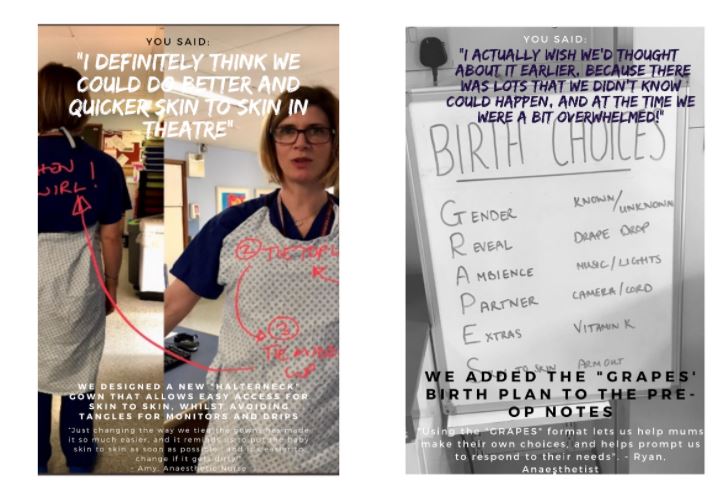 Evaluation has been challenging. Run charts plotting data points over time made it easier to see the impact of some of our efforts like reducing fasting times and increasing website visits. We concluded that for "softer" changes like adjusting gowns, ECG placement or offering music it was ok to use the "new normal" as our measure. Despite no formal ethnographic mapping, informal feedback suggested that engagement between staff groups had also improved, especially when they started instigating small changes together. What I am most proud of is clear evidence of culture change.
Future directions 
The project empowered staff to be active change "agents" and its legacy has been a continued "wave" of collaborative improvement initiatives from staff. Use of a daily team Whatsapp group—inspired by covid-19 use—to reduce patient delays is currently being evaluated. 
Senior leaders are currently helping us work out how to embed the use of patient stories into training and to avoid returning to the tradition of only viewing women's change ideas as optional extras.
The Point of Care Foundation is helping us to create an maternity specific EBCD toolkit. As most case studies are non maternity based it took up a lot of time and energy to set up this project. We are now in a position to mentor others wanting to explore co-design in maternity care and we look forward to being able to do this.
Learning points:
The women who volunteered to share their stories were fundamental to this initiative which looked outside the professional lens to face the uncomfortable truth of poor patient experience.

 Patient experience can't always be measured easily or quickly by "hard data." Hearing people's voices, and seeing their faces as they recall their experience can sometimes be not just a great way of seeing why and where we can make changes, but can act as the catalyst for it too.

Asking staff to buy into a project with no pre-conceived intervention worried doctors more than nursing or midwifery groups at first  but all those who participated reported being transformed in their attitudes through watching and ultimately valuing the women's stories

Airing internal doubts at regular brainstorms was important and the guidance of EBCD mentors helped us keep us on track 

Working with patient advocates was central to helping us understand what means most to women and " sense-check" information leaflets, posters and change ideas.

Don't be afraid of failure. Some ideas won't work as you originally thought, keep talking about what and why, then tweak and try again.
Emma Evans, consultant anaesthetist.
Monika Kupper, member of the St George's Hospital Maternity Voices Partnership.
Competing interests: none declared.