Manchester's student areas have got media attention in recent weeks for being new UK virus hotspots. Zartasht Carmichael shares what it's been like to live and study there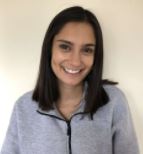 My third year of medical school came to an abrupt end in March when I was sent home for the foreseeable future. I was apprehensive about coming back to Manchester University in my fourth year as the city was in a local lockdown. I have now been back for six weeks, and I am getting used to our "new normal."
The student towns of Fallowfield and Withington have got media attention in recent weeks for being new UK virus hotspots after positive covid-19 cases more than doubled within a week. Yet it shouldn't come as a surprise that Manchester's student area has been so badly hit with positive cases. The area is bustling with the mass movement of new students coming to their halls and returning students moving into private accommodation. Moving back to Manchester was bittersweet. I was so excited to see my friends and catch up with my housemates, but I was still unsure about what to expect from my medical school placement or what student life in Manchester would be like. 
Medical students starting our placement years knew to expect a very different year—one of integrated face to face teaching and online learning. The way we are taught has rapidly changed with the current crisis; placement introductions, multidisciplinary team meetings, patient teaching, and communication skills are no longer done in person, but online via Microsoft teams. Adjusting to learning from home alongside clinical placement and online teaching has taken some getting used to. We still have scheduled clinical sessions in the hospital two to three times a week. As our first block draws to a close, I think that this integrated teaching style has been very effective.
My younger sister was one of the thousands of students who moved into first year halls. She soon developed coronavirus symptoms and tested positive after less than a week of living in her new city. Her whole flat isolated in their single rooms and communal area, with four others testing positive a few days later. Before getting a test, she had only been able to venture out to see her new campus before spending the next 10 days locked in her flat. She was too unwell to engage with online freshers events. As a first year medical student, her only face to face contact will be the weekly cadaver dissection sessions. All other teaching is now done online, with groups of people that have never met face to face before. 
As I had been in contact with my sister just before she tested positive, I was also told to self-isolate. This meant locking myself away from my housemates in my room for 14 days. I live in a household with other medical students, who have different base hospitals with different trust policies for covid-19. This caused a bit of anxiety around what the rest of the house should do. I missed just over a week of my placement, but hugely appreciated that I still had online teaching sessions to keep me busy and up to date when I returned. 
Coronavirus has definitely changed the student life in Manchester, but it's nice to see how everyone is still enjoying life and making the new rules work. Manchester's student area has been hit badly by coronavirus, most likely because of the high number of students that study at the three universities on Oxford Road and the inevitable mixing of students as they are reunited with their friends after six months apart.
Cases have rapidly increased, putting a strain on everyone's learning, experience of student life, and most importantly their mental health. I feel very fortunate to have experienced my early years of medical school without a pandemic going on. I think it is important that we think about the effects of sending all students back on a wider scale, with many halls closing off blocks due to self-isolation and a lot of teaching now delivered online. Many students are left paying full university and accommodation fees while stuck in their tiny first year room.
The frightening prospect of many students not feeling safe to return home to their family for a weekend as they live with someone who is at high risk is so sad. Furthermore, the fact that the government is considering whether it is safe for students to go back home for Christmas really hones in on how widespread and damaging the effects of this virus are, not only physically but on peoples' emotional wellbeing. 
Zartasht Carmichael is a fourth year medical student at the University of Manchester. Twitter @CarmichaelTashi
Competing interests: None declared.